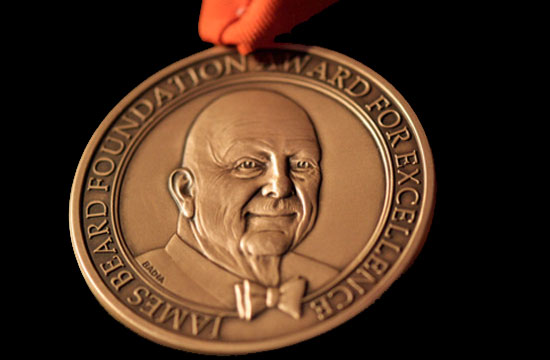 It's that coveted day of the year — when boys and girls become men and women, chefs become better chefs, and all of the media will immediately start debating who deserved a James Beard nomination and who didn't. Get excited!
The semifinalists were announced last month, but today the James Beard Foundation will announce the next round advancing (wait, are we in March Madness?) to be official "nominees," to receive awards at the ceremony in Chicago next month. We'll keep this post updated while we find out through Facebook and Twitter (because of course).
Curious as to who was nominated at all this year? Check here for the longest list of seminfinalist restaurants and chefs known to man.
UPDATED: And here's the list!
Best New Restaurant
Presented by True Refrigeration®
Bâtard, NYC
Central Provisions, Portland, ME
Cosme, NYC
Parachute, Chicago
Petit Trois, Los Angeles
The Progress, San Francisco
Spoon and Stable, Minneapolis
Outstanding Baker
Joanne Chang, Flour Bakery + Cafe, Boston
Mark Furstenberg, Bread Furst, Washington, D.C.
Jim Lahey, Sullivan Street Bakery, NYC
Belinda Leong and Michel Suas, B. Patisserie, San Francisco
William Werner, Craftsman and Wolves, San Francisco
Outstanding Bar Program
Presented by Tanqueray No. TEN®
Arnaud's French 75 Bar, New Orleans
Bar Agricole, San Francisco
Maison Premiere, Brooklyn, NY
Trick Dog, San Francisco
The Violet Hour, Chicago
Outstanding Chef
Presented by All-Clad Metalcrafters
Michael Anthony, Gramercy Tavern, NYC
Sean Brock, Husk, Charleston, SC
Suzanne Goin, Lucques, Los Angeles
Donald Link, Herbsaint, New Orleans
Marc Vetri, Vetri, Philadelphia
Outstanding Pastry Chef
Dana Cree, Blackbird, Chicago
Maura Kilpatrick, Oleana, Cambridge, MA
Dahlia Narvaez, Osteria Mozza, Los Angeles
Ghaya Oliveira, Daniel, NYC
Christina Tosi, Momofuku, NYC
Outstanding Restaurant
Presented by Acqua Panna® Natural Spring Water
Blue Hill at Stone Barns, Pocantico Hills, NY
Highlands Bar and Grill, Birmingham, AL
Momofuku Noodle Bar, NYC
Per Se, NYC
The Spotted Pig, NYC
Outstanding Restaurateur
JoAnn Clevenger, Upperline, New Orleans
Donnie Madia, One Off Hospitality Group, Chicago (Blackbird, Avec, The Publican, and others)
Michael Mina, Mina Group, San Francisco (Michael Mina, RN74, Bourbon Steak, and others)
Cindy Pawlcyn, Napa, CA (Mustards Grill, Cindy's Back Street Kitchen, and Cindy's Waterfront at the Monterey Bay Aquarium)
Stephen Starr, Starr Restaurants, Philadelphia (The Dandelion, Talula's Garden, Serpico, and others)
Outstanding Service
Presented by Goose Island Beer Company
The Barn at Blackberry Farm, Walland, TN
Marea, NYC
Quince, San Francisco
Restaurant August, New Orleans
Topolobampo, Chicago
Outstanding Wine Program
A16, San Francisco
Bern's Steak House, Tampa, FL
FIG, Charleston, SC
McCrady's, Charleston, SC
Spago, Beverly Hills, CA
Outstanding Wine, Beer, or Spirits Professional
Presented by BACARDÍ® GRAN RESERVA
Sam Calagione, Dogfish Head Craft Brewery, Milton, DE
Ron Cooper, Del Maguey Single Village Mezcal, Ranchos de Taos, NM
Ted Lemon, Littorai Wines, Sebastopol, CA
Rajat Parr, Mina Group, San Francisco
Harlen Wheatley, Buffalo Trace Distillery, Frankfort, KY
Rising Star Chef of the Year
Presented by S.Pellegrino® Sparkling Natural Mineral Water
Tanya Baker, Boarding House, Chicago
Alex Bois, High Street on Market, Philadelphia
Erik Bruner-Yang, Toki Underground, Washington, D.C.
Jessica Largey, Manresa, Los Gatos, CA
Cara Stadler, Tao Yuan, Brunswick, ME
Ari Taymor, Alma, Los Angeles
Best Chef: Great Lakes
Curtis Duffy, Grace, Chicago
Jonathon Sawyer, The Greenhouse Tavern, Cleveland
Paul Virant, Vie, Western Springs, IL
Erling Wu-Bower, Nico Osteria, Chicago
Andrew Zimmerman, Sepia, Chicago
Best Chef: Mid-Atlantic
Joe Cicala, Le Virtù, Philadelphia
Spike Gjerde, Woodberry Kitchen, Baltimore
Rich Landau, Vedge, Philadelphia
Greg Vernick, Vernick Food & Drink, Philadelphia
Cindy Wolf, Charleston, Baltimore
Best Chef: Midwest
Paul Berglund, The Bachelor Farmer, Minneapolis
Justin Carlisle, Ardent, Milwaukee
Gerard Craft, Niche, Clayton, MO
Michelle Gayer, Salty Tart, Minneapolis
Lenny Russo, Heartland Restaurant & Farm Direct Market, St. Paul, MN
Best Chef: Northeast
Karen Akunowicz, Myers + Chang, Boston
Barry Maiden, Hungry Mother, Cambridge, MA
Masa Miyake, Miyake, Portland, ME
Cassie Piuma, Sarma, Somerville, MA
Andrew Taylor and Mike Wiley, Eventide Oyster Co., Portland, ME
Best Chef: Northwest
Greg Denton and Gabrielle Quiñónez Denton, Ox, Portland, OR
Renee Erickson, The Whale Wins, Seattle
Blaine Wetzel, The Willows Inn on Lummi Island, Lummi Island, WA
Justin Woodward, Castagna, Portland, OR
Rachel Yang and Seif Chirchi, Joule, Seattle
Best Chef: NYC
Marco Canora, Hearth
Mario Carbone and Rich Torrisi, Carbone
Mark Ladner, Del Posto
Anita Lo, Annisa
Ignacio Mattos, Estela
Jonathan Waxman, Barbuto
Best Chef: South
Vishwesh Bhatt, Snackbar, Oxford, MS
Justin Devillier, La Petite Grocery, New Orleans
Jose Enrique, Jose Enrique, San Juan, PR
Slade Rushing, Brennan's, New Orleans
Alon Shaya, Domenica, New Orleans
Best Chef: Southeast
John Fleer, Rhubarb, Asheville, NC
Edward Lee, 610 Magnolia, Louisville, KY
Steven Satterfield, Miller Union, Atlanta
Jason Stanhope, FIG, Charleston, SC
Andrew Ticer and Michael Hudman, Andrew Michael Italian Kitchen, Memphis
Tandy Wilson, City House, Nashville
Best Chef: Southwest
Kevin Binkley, Binkley's, Cave Creek, AZ
Aaron Franklin, Franklin Barbecue, Austin
Bryce Gilmore, Barley Swine, Austin
Hugo Ortega, Hugo's, Houston
Martín Rios, Restaurant Martín, Santa Fe
Justin Yu, Oxheart, Houston
Best Chef: West
Matthew Accarrino, SPQR, San Francisco
Stuart Brioza and Nicole Krasinski, State Bird Provisions, San Francisco
Michael Cimarusti, Providence, Los Angeles
Corey Lee, Benu, San Francisco
Jon Shook and Vinny Dotolo, Animal, Los Angeles
Have a tip we should know? tips@mediaite.com