WATCH: Jamie & Bobby Deen Say Their Mom Isn't Racist Because She Once Bought Hank Aaron PJs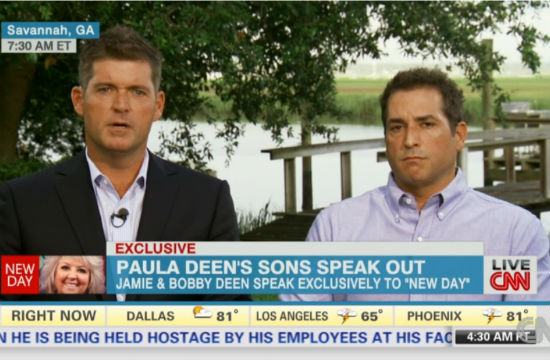 Is this a great defense or the greatest defense? We haven't decided, yet, whether it's better or worse than "she's old and from the South."
Jamie and Bobby Deen made an appearance on CNN's New Day this morning (via satellite from Savannah, Georgia, natch) to discuss their poor mother's "character assassination." They insisted to Chris Cuomo that Paula Deen is not a racist, nor has she ever demonstrated racist tendencies, which Jamie went on to illustrate with this beautiful story, told in completely hilarious sincerity:
"In 1975, before I had my tonsils taken out, Henry Aaron was my first sports hero growing up…before I had my tonsils taken out, I was seven years old, I was very nervous, and my parents gave me Hank Aaron pajamas. And when they gave me these pajamas, my mom and dad told me the story of the challenges that The Hammer faced in his pursuit of this record. They told me that he's a man of character, and the challenges he had to overcome because of his color was unacceptable. This is a lesson that my mom and dad taught me when I was seven years old, and it's a lesson that I've carried throughout my life, of inclusion and to treat everyone fairly and by their character, and by their own merit. And under no circumstances should you ever judge anybody for any other reason."
See? A racist would never buy baseball pajamas for her worked up seven-year-old on the eve of minor surgery.
…We're really sorry you got dragged into this, Hank Aaron. Check out the clip below.
RELATED: Lawyers Release New Defense Of Paula Deen's Racism: She's A Southern Old Person
Food Network FIRES Paula Deen
Paula Deen Defends Use Of 'N-Word', Wants Black Employees To Dress Like Slaves (UPDATED: And She's Fired)
Have a tip we should know? tips@mediaite.com