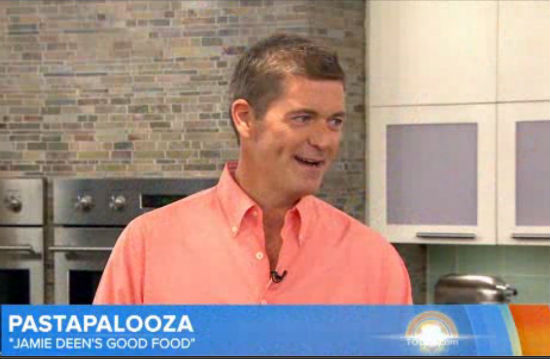 Jamie Deen appeared on The Today Show's heavily dad-centric broadcast this morning for a kid-friendly pasta demo, but, of course, since Today owes most of its summer ratings to Paula Deen exclusives, he couldn't avoid answering questions about his mom.
"She's doing really fantastic," he told Matt Lauer at the top of the segment. "We've gotten tremendous love and support, and of course, we would just do anything for Mom, and it's been an interesting summer for us, but we've been through challenges as a family before, and we're going to be fine."
When asked how the summer's scandal was affecting him as her son, Jamie replied:
"You know, it's tough. You know as well as anyone, you're in this business, people are going to take pot-shots at you. You accept that with the opportunities it allows you, but personal attacks on your mom is never an easy thing. But we know who Mom is, and people that know us and love us know, so you just gotta roll with the punches. I mean, what are you going to do, you know?"
This has been your shockingly cavalier Deen moment of the day. Check out the clip below.
Visit NBCNews.com for breaking news, world news, and news about the economy
RELATED:
WATCH: Paula Deen's Exclusive Today Show Interview
Kathie Lee Gifford's Misguided Defense Of Paula Deen: 'The Facts Are Not Yet In' (VIDEO)
Today Show Recruits Body Language Expert, PR Guru & Carson Daly To Dissect Deen Interview
Have a tip we should know? tips@mediaite.com