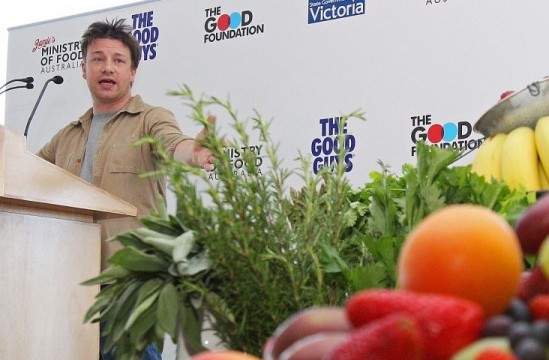 On May 22, Jamie Oliver is headed up to Cambridge, MA to receive the Healthy Cup (which is a real award and not a probiotic smoothie) from the Harvard School of Public Health "for his substantial achievements in working to end the childhood obesity epidemic," according to the professors at Harvard University.
Coincidentally-ish, the award ceremony/lecture will coincide with Oliver's Food Revolution Day, a "series of events held throughout the U.S. designed to inspire people to use local, fresh foods and to promote the need for better food education."
Oliver, whose show Jamie Oliver's Food Revolution dives into the most obese places in America and tries to change their artery-clogging ways, joins other distinguished recipients of the Healthy Cup, such as Senator Tom Harkin and Lee Iacocca. (We can't help but wonder what they'd all be like if they were in the same room.) He hopes that Food Revolution Day will continue even after the TV show inevitably peters off, as television shows do.
"Pretty much everything we do is about facilitating local communities and people who were already doing it, but trying to do it in such a way that we are all sharing and focusing and empowering each other," he said in an interview with The Boston Globe. "And basically most of them, a lot of companies, and local governments were saying, 'It'd be really nice to focus on one day.'"
Oliver will receive the award during a sold-out lecture, after which he'll parley with the fine young men and women of Harvard at Afternoon Tea, participate in a regatta, and burn Yale's mascot.
[h/t Grub Street]
Have a tip we should know? tips@mediaite.com