WATCH: Jamie Oliver Has Far Too Much Energy, Lets It Out By Smashing Vegetables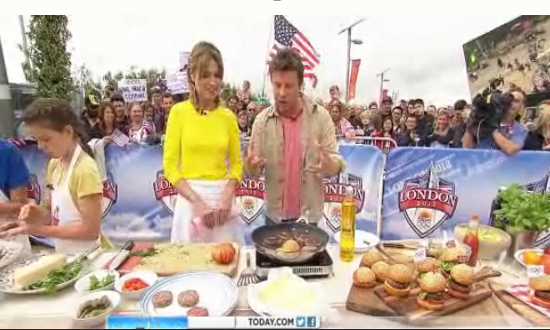 Jamie Oliver may be many things, but he is never boring. He stopped by the Today show for their Olympic Kitchen segment partially because he's English, but mostly because he wanted to stick it to McDonald's by making burgers right next to the biggest location in the world. Jamie also didn't want to pass up the opportunity to teach the world, and threw in some knife tips along with the recipe as well as lecturing Savannah Guthrie on the history of the hamburger. That's right: Jamie Oliver will make this educational whether you like it or not.
He's also still really excited. Maybe it's about the Olympics, maybe it's because he gets to show off his adorable assistants (Mattie and Maddie!), maybe he was just trying to cram the whole segment into four minutes. Whatever the reason, Jamie's mouth was running like a track and field champion. "A mile a minute" doesn't do it justice — we didn't even realize it was possible to have so much energy at that hour. Should someone start watching his caffeine intake?
Visit NBCNews.com for breaking news, world news, and news about the economy
Then, just in case you hadn't quite had your fill of Jamie bouncing off the walls, he comes back to make a "smashed salad" — which is exactly what it sounds like. After (literally) throwing all of the ingredients into a bowl, he has Savannah, Ryan Seacrest and Al Roker take turns beating up vegetables with a rolling pin. Once his super cute assistants finish up the salad, he spoon feeds it to everyone. And if that wasn't strange enough, the whole segment just ends. No outro, no charming smiles, nothing. Is it just us or did that feel like some kind of food-segment fever dream?
Visit NBCNews.com for breaking news, world news, and news about the economy
Have a tip we should know? tips@mediaite.com