Jamie Oliver Week: Calls British Chefs 'Lazy,' Offers Free Copies of His Cookbook to Every UK Library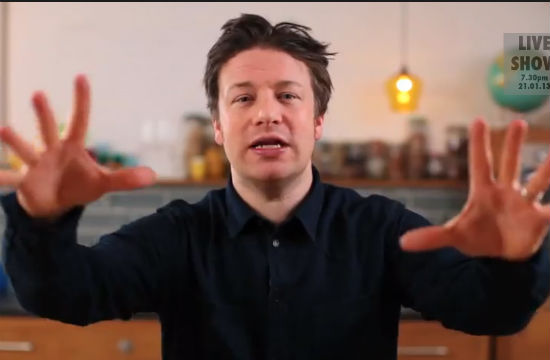 Has the moon gone haywire, or has this been the official week of Jamie Oliver Saying Controversial Things? First, there was that controversial comment about how poor people spend their money, and today we get a twofer: Jamie Oliver insulting young British chefs, and Jamie Oliver insulting British libraries.
First: Yesterday, Oliver told the Daily Mail that he found that young British chefs were the whiniest bunch of brats he'd ever worked with, adding that immigrant chefs were much better workers:
"The young will be better at different things. Long hours in hot kitchens is not one of them.
And they still whinge about it. British kids particularly. I have never seen anything so wet behind the ears. I have mummies phoning up for 23-year-olds saying to me, 'My son is too tired'."
Naturally, young British chefs took umbrage with this — but surprisingly, they got support from successful British chefs. Famous UK chef Antony Worrall Thompson responded with disdain, telling the Daily Mail that "the country needs young people to train as there aren't enough young British chefs. We need to encourage them, rather than knock them."
Even immigration groups, representing the people Jamie professed to admire, chastised Jamie:
Migration Watch vice-chairman Alp Mehmet said it was unfair to compare immigrants desperate for a job with young Britons trying to establish a career.

'Jamie Oliver is simply wrong,' he told MailOnline. 'It wasn't that long ago that he was a young British worker….Hundreds of thousands of young British people are very hard-working and bright and desperate for a job.'
Second: Oliver announced today that he would donate a copy of his book, Save With Jamie, to every library in the United Kingdom — a total of 4,000 books.
"We know from the fabulous work that libraries do every day that everyone deserves a chance to learn basic skills that can improve everyday lives," Oliver said in a statement. "Reading and cooking are two of those skills for sure. I'll admit I've been a late developer with the first, but I can definitely help with the second."
Okay, it could either be a compliment to librarians or a totally self-aggrandizing, Jesus-complex-derived move, but does it matter how hard Jamie is Oprah-ing when we're Thinking About The Children? Debate away.
[h/t Eater]
RELATED:
This Is The First Book That 38-Year-Old Jamie Oliver Has Ever Read
Jamie Oliver Is Confused By The Poor
Jamie Oliver Is Coming To Your Saturday Morning Cartoons
Have a tip we should know? tips@mediaite.com