Jamie Oliver's Favorite 9-Year Old Food Blogger Shut Down By School Officials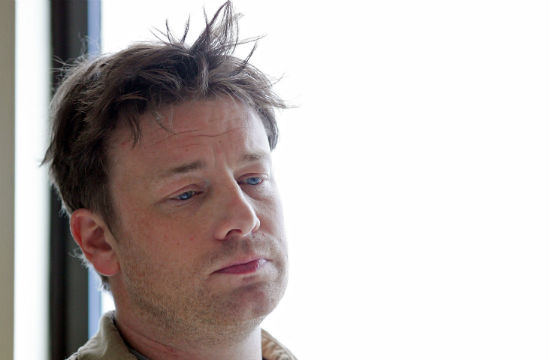 Remember that time our friends at The Mary Sue found an adorable 9-year old Scottish food blogger whom Jamie Oliver endorsed for revealing the hideously unhealthy school lunches her cafeteria was serving, complete with photo evidence, pricing, and reviews? Well, the girl has now been commanded by her local council to shut down the blog for all the bad press it's drawing the school district. So this is Scotland and not Communist China, right? Right. Here's the deal:
After a Twitter shout-out from The Naked Chef, little Martha Payne's blog Never Seconds received over two million hits and international attention. One of her most shocking photos was of one cafeteria lunch containing a square slice of pizza, some corn, a potato croquette, and a muffin. So balanced, guys!
Once her blog exploded, she saw a marked rise in quality at lunchtime, and her cafeteria even changed its policies to allow students unlimited access to fruit and salads. But, of course, in bringing attention to the school's awful lunch program, Martha also earned it some bad press. And, while the school has never been named on her blog, nor in any stories about her, her local council (basically the Scottish equivalent of a school superintendent) banned her from posting any more photos due to the negative attention. You know, that totally fair and well-deserved negative attention.
Martha wrote in her farewell post:
"This morning in maths I got taken out of class by my head teacher and taken to her office. I was told that I could not take any more photos of my school dinners because of a headline in a newspaper today. I only write my blog not newspapers and I am sad I am no longer allowed to take photos."
Our hearts break. The council isn't commenting on its decision to silence little Martha's brave quest to supply healthier food for her friends, but officials insist the school's meals are "fully compliant with nationally agreed nutritional standards." Uh, because we know how strict national standards can be (ahem, pink slime).
So, obviously, everyone across the pond is in an uproar over how Scotland is behaving like a bunch of fascists right now and we, too, are wondering who signed off on forcing a nine-year old to shut down her awesome, revealing, thought-provoking, change-inspiring blog. You can check out the whole story at The Telegraph, but we're betting Jamie Oliver swoops in to save the day and make a TV special out of it any day now.
Have a tip we should know? tips@mediaite.com