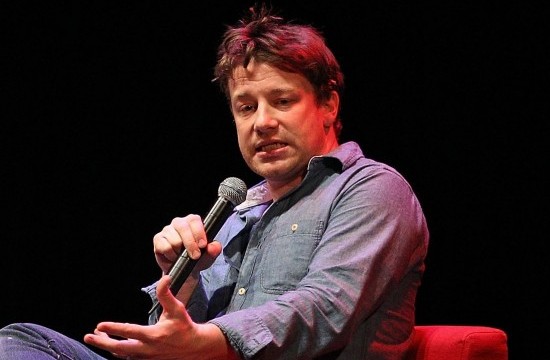 Bromance is in the air: Jay Rayner has written a piece for The Guardian championing Jamie Oliver. In it, Rayner argues that hating Oliver is "impossible" and that the world needs more people like him.
Oliver's garnered his share of negative attention and press for the fortune he has made opening restaurant after restaurant and schilling cookbooks and various products. Let us also not forget the vitriol he inspires with his Food Revolution. But Rayner says to ignore all of that in favor of what's really important about Oliver: he's genuine.
He may not be a "great cook," but when he takes on a crusade, he throws his all into it. He doesn't take sole credit for his campaign to improve school lunches, but uses his celebrity to promote the cause. He tells the UK Secretary of Education where to stick his "costly reports". Most importantly, though, Oliver is just an Essex boy who has done incredibly well for himself, and wants to do good as a result. "If we hate him" says Rayner, "we hate ourselves". That's right — the fight against hatred of Jamie Oliver is part of the fight against self-hatred.
So everybody, put down your torches and pitchforks and take a moment to appreciate Jamie Oliver. He means well. Or, if that's too difficult, take a moment to appreciate the fact that this has the potential to be a bromance for the ages. They could be the Jay-Z and Kanye of the culinary world.
Have a tip we should know? tips@mediaite.com