Spoiler: Jenn Louis' Top Chef Masters Sous Chef Performed So Well, He Got A Promotion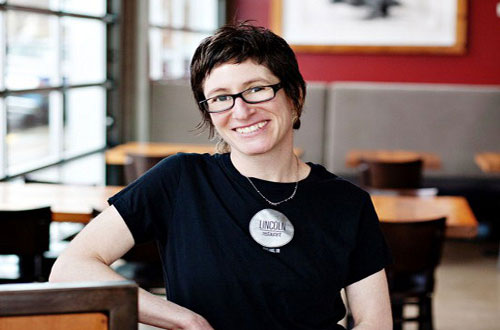 Jenn Louis of Lincoln and Sunshine Tavern in PDX is in the lineup for July 24th premiere of Top Chef: Masters, and in an interview with Zagat, she revealed that her sous chef set her up so well in Battle of the Sous Chefs that she gave him a promotion when they got home.
As you may or may not recall, Battle of the Sous Chefs is the online side-competition this year, as Top Chef: Masters' web component to its amateur version's Last Chance Kitchen. In BOTSC, the sous chosen by each Masters cheftestant will compete amongst themselves to confer advantages and disadvantages to their bosses on the TV series.
Said Jenn of her partner:
"My sous-chef is Cory Chunn. He started as a line cook and he quickly became my sous-chef at the restaurant. He's really young, but he has a lot of great experience. His first job was making cotton candy when he was nine years old. He's as gritty as they come, and what I mean by gritty is he does whatever needs to be done to get the job done. He is incredibly loving and he never does anything less than 120%. He's always got my back. There were challenges where he had to perform to do a good job so that I was set up and he always set me up. Since the show, he got a promotion to chef de cuisine."
Well, that's one way to train your staff. Might this be a hint as to how well Jenn performed overall? Because we'd really hate to call our silk-screeners and cancel our order for those "F*ck Yeah, Jenn Louis" t-shirts.
[Zagat]
RELATED:
WATCH: Sous Chefs React To Top Chef Masters Twist, Get Thrown Into Battle
Top Chef Masters Season 5 Lineup Includes Top Chef Alum Bryan Voltaggio
Jenn Louis: Controversial Stanford Organic Food Study Completely Misses The Point
Dining Diaries: Portland's Jenn Louis Doesn't Believe In Takeout
Have a tip we should know? tips@mediaite.com