Twins Involved In The Petraeus-Allen Scandal Once Cooked Alligator On Food Network Show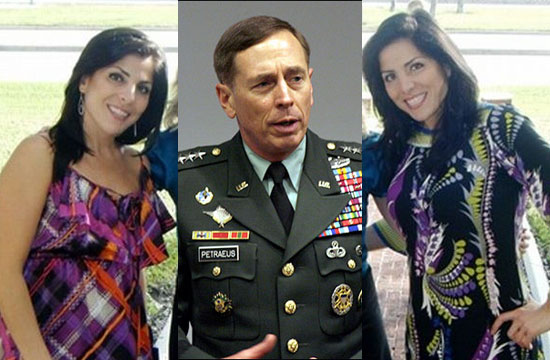 Remember how sad/suspicious the nation was when renowned General David Petraeus voluntarily resigned from his post as the head of the CIA due to an affair discovered by the FBI? Remember how our sadness soon turned to rapt attention as the scandal ensnared another four-star Army general and a host of other women?
Turns out that Jill Kelley, the woman who alerted a (shirtless) FBI agent to harassing emails sent by Petraeus's biographer/mistress Paula Broadwell, also has a twin sister who appeared with her on the Food Network many moons ago. Grub Street dug up a 2003 appearance by the unpaid social liaison and her bankrupt, allegedly "unstable" twin Natalie Khawam, where they appeared on a since-canceled show called Food Fight. The premise: two teams of two arbitrary categories (in this case, siblings vs. siblings) cook against each other. And of course, the two being socialites, they had to show off their assets:
"I guess Natalie Khawam and her twin sister, Jill Kelley, believe you have to look good to cook good," a reporter from The St. Petersburg Times sighed in a writeup. "How else can you explain why Khawam showed up Monday wearing a Chanel blouse, leather skirt and Gucci heels to tape an appearance on a new Food Network show? Kelley was no less dressed in Brooks Brothers black."
No one knows for sure who won the alligator cook-off — not even the Food Network — but the show was eventually canceled.
[St. Petersburg Times via Grub Street]
Have a tip we should know? tips@mediaite.com