WATCH: Former President Jimmy Carter Defends Paula Deen; Really, We're Serious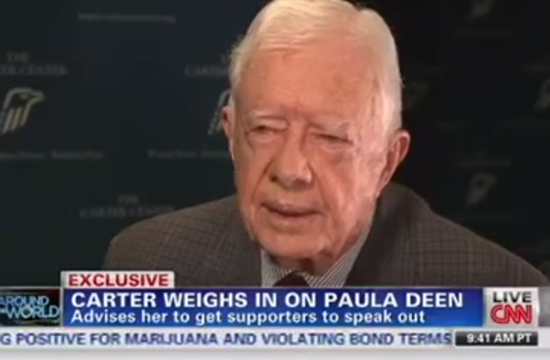 A scandal is not worn-out, fatigued, or dead in the water until former president, Nobel Peace Prize-winner, and Iran Hostage Crisis non-solver Jimmy Carter has had his say.
So, here's his say: "My heart goes out to her, but of course there's no condoning the use of a word that abuses other people."
The former president, who is good friends with Paula Deen, has an interview airing tonight on CNN where he mumbles nice old-person things about The Carter Foundation and its upcoming human rights forum. But he also revealed that he was among the dozens of people Deen called after the crisis broke and, it turns out, the two old Georgia peaches are longtime friends.
"I advised her to let the dust settle and to make apologies," he told Suzanne Malveaux. "And she has some very beneficial human programs in Savannah, Georgia, where she lives, that benefit almost exclusively oppressed and poverty-stricken people. I advised her to get some of those people who she's helping every day to speak out and show that she has changed in her relationship with African-American people, with minorities in the last number of years."
Will Team Paula listen to a former president? Will he succeed where Jesse Jackson Jr. and Real Life Olivia Pope have failed? Is Paula Deen too mavericky for the advice of America's peanut statesman? Tune in next week for another edition of The Strange Case Of Paula Deen's Mouth!
RELATED:
Now Jesse Jackson's Helping Paula Deen Recover From Racismgate
WATCH: Martha Stewart Schools Paula Deen On The Art Of Scandal Response
Today Show Recruits Body Language Expert, PR Guru & Carson Daly To Dissect Deen Interview
[h/t Gawker]
Have a tip we should know? tips@mediaite.com