Joe Beef Stopped Going To MAD, Call the Food World 'So Far Removed [From] Reality'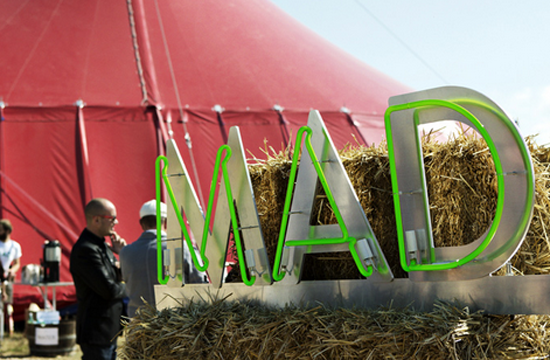 In a frank interview with The Huffington Post, the men behind Canada's famed Joe Beef, Frédéric Morin and David McMillan, finally say what we've all been thinking but are too afraid to admit: the food world, and the celebrity worship and media pageantry surrounding it, is spinning wildly out of control.
"The food world has gone somewhere like so far removed [from] reality…fame, it's killing everybody," Morin said in the interview, also revealing that the two had decided to stop attending MADFood, the famed Nordic conference attended by all the Important Peoples in the food world. "I don't think that [what] we think is important enough [to be] sitting on a log in the middle of a circus tent, talking to people about it."
"No disrespect to any of them there," McMillan added, saying that speaking there in 2012 had been a dream of theirs, "[but] we both agree we have nothing to to say or care to say about what we do to anyone." He used the following example to put things in perspective:
Alex Atala (beheaded) a chicken at Mad symposium on stage wearing a T-shirt that says "Death Happens," and while when I change applications on my phone and go to read the news, all I see is mothers holding their dead gassed babies. I have trouble taking anyone in my industry seriously that speaks on stage about how death happens. I don't want to be associated with that.
Well, great, we now feel like we're a hopeless, amoral cog in an all-devouring celebrity chef machine that we can't stop, ravaging the food world with our gossip napalm, salting the earth with our odd obsessions, blowing things up with our hyperbole that should be conveyed quite simply. THANKS FOR FEEDING INTO OUR SELF-LOATHING, JOE BEEF DUDES.
Read the rest of the interview here, which goes into much more depth, and then click on some of our own invasive coverage of the Joe Beef guys, while we go hang ourselves.
RELATED:
WATCH: Parts Unknown Gives Us Confusing Feelings About Canada
Canadian Government Funds Food Truck To Feed Poutine To Mexicans (Really)
Bourdain Blasts MacLeans For 'Deranged' Omissions From Canada's Best Restaurants List
Have a tip we should know? [email protected]