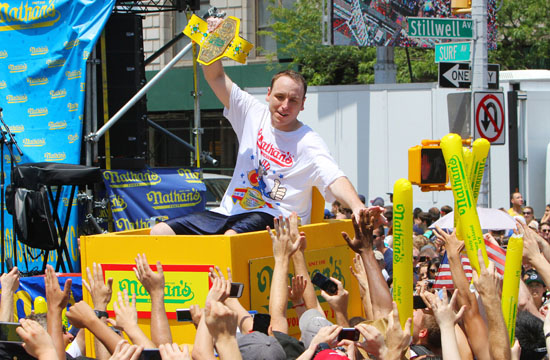 Yesterday, competitive eater and King Of The Dogs Joey Chestnut broke his own world record for "how many hot dogs a man can eat in an hour" at the annual Nathan's Famous Hot Dog Eating Contest. For the edification of the reader, that number is 69.
Oh. Oh my, that is a large number. No, we're okay, just, a bit of an upset stomach, is all.
Chestnut, who has now won the contest seven years straight (to the chagrin of his eternal rival Takeru Kobayashi), shattered his previous record of 68 hot dogs by astonishingly consuming one hot dog more than he did in the previous year, the Brooklyn Paper reports.
Yes, water would be lovely right now, thank you. Just gonna dab some on our foreheads, maybe behind the ears. Nah, we don't need to drink any of that — we, uh, don't feel like putting anything in our stomachs.
On the women's side, Sonia Thomas — nicknamed The Black Widow — won by eating 36.75 hot dogs, narrowly beating out her competition by three-fourths of a dog. Somewhere, abandoned in a trash can in Coney Island, is a tiny, water-soaked nub of a hot dog, covered in vomit and feeling like one-fourth of the dog it once was.
Oh gosh, excuse us. We're not feeling so good.
RELATED:
Celebrate America By Watching The Nathan's Hot Dog Eating Contest, Which Is What The Founders Would Have Wanted
Takeru Kobayashi Forced To Perform Sideshow Act Before Heckling Bros
WATCH: Hell's Kitchen Contestants Take Part In Wing Eating Competition With Joey Chestnut
Have a tip we should know? tips@mediaite.com