Why John Besh Decided To Do A Show On PBS: 'You're Not Getting Any Pomp And Circumstance'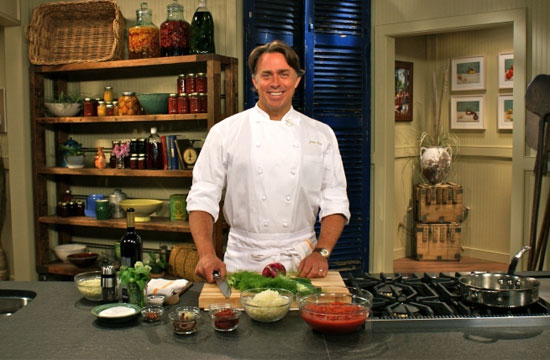 While talking to PopSugar at the South Beach Wine and Food Festival, the New Orleans chef John Besh found himself in possession of a "Bucket 'o' Booze" and a question: why was he, Famous John Besh, making a show on PBS? Why was he sharing airtime with the boring folks from Antiques Roadshow and This Old House, and not sassing things up on Bravo with Andy Cohen?
For Besh, it's because he'd rather educate people than entertain. "It's really the only way that a chef can cook now on television without it becoming a spectacle," he explained, comparing John Besh's New Orleans with a similar show by a New Orleans celebrity chef:
I love Top Chef, and that has a place, but that's entertainment, as opposed to a good, informative cooking show. Today there's all sorts of outlets for food, but it's very limited as far as what a chef is able to do on television. It used to be that Emeril [Lagasse] had a show, and you could watch Emeril cook, and Emeril was fine in that kitchen just cooking, and you could learn a lot from it. But now there's very little of that. So that's what I wanted to do. I look at public broadcasting as being very smart and true, so it gives me the artistic freedom to create a show with integrity that's really just all about the food, and you're not getting any pomp and circumstance. My point is to inspire people to cook, and that's really the only venue that I have to do that other than cookbooks.
Read the rest of the article below, which for some reason, includes a topless Andrew Zimmern. Put your shirt back on, Shirley Mambo!
[PopSugar]
Have a tip we should know? [email protected]