Jon Favreau, Roy Choi Tease a Chef-Themed Restaurant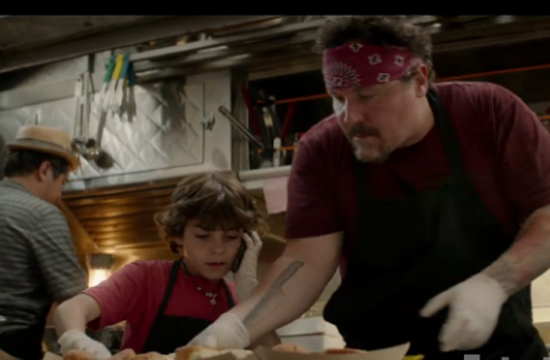 While Jon Favreau continues to ride the Chef train for as long as possible — extending the movie's release into theaters by months, touring the states for El Jefe cubano sandwich demos — he dropped another tidbit about his future plans. And that would be a real-life El Jefe restaurant.
Favreau told Yahoo! Movies at a promotional event that he wants to open a restaurant with his cooking prophet, Roy Choi. Said Favreau, "I love sharing the food with people, so that they could see that food really is as good as it looks … It's not the wisest business venture, but for me it's a way to let the movie live on and connect with the fans." And Choi jumped in on the venture, adding ""We want to turn this into a real restaurant, … When people got out [of screenings], they wanted that thing to be real."
Could this really be a reality? Considering Favreau is already making guest appearances on Choi's new show, Street Food, it's not a far stretch to see more future collaborations from the team. Then again, Chef's biggest concerns for the time being may be awards season, once again. Favreau said to Entertainment Weekly (clearly cloying to win some sort of something without appearing too desperate to win):
"Because I'm part of the community, I get to participate in awards season at parties or with my friends who've been nominated, but I've never been nominated for any of the year-end awards," he said. "If anything happens, that's fantastic, but I can sincerely say that I've gotten more out of this already than I could ever have hoped. The fact that I got to tell a story that I care deeply about that moves me and has moved people? That's as good as it gets when you do what I do for a living."
Still aiming high for those award nominations. But hey, a restaurant is always a good back-up plan.
[Yahoo! Movies, Entertainment Weekly]
RELATED: Could Chef Win an Oscar? Our Predictions
Jon Favreau and Roy Choi Host El Jefe Pop-Up This Weekend, It's Madness
Roy Choi Explains the Soul-Crushing, Stereotyped, Bad Haute Cuisine in Chef
Have a tip we should know? tips@mediaite.com