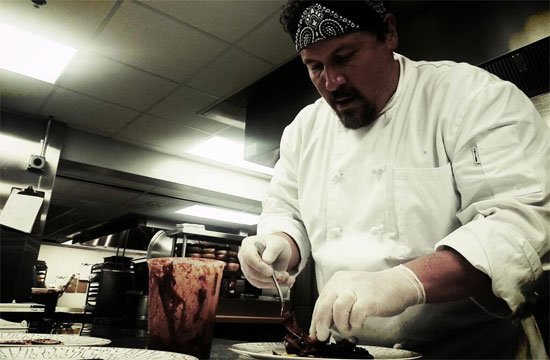 Jon Favreau is back on the press blitz for his film Chef, after a successful debut at SXSW last month. The film is now screening at the Tribeca Film Festival, and is slated for a May 9th limited release, followed by national expansion through May and June. In a sprawling interview with Vulture about the nature of indie and blockbuster film-making, from Swingers to Iron Man, Favreau spoke about the gentle cares he took making a (sustainable) indie food movie:
Did you do your own cooking stunts? What type of training did you have to do it?

Roy Choi [chef and owner of the Kogi food truck and other restaurants in L.A.] was a guy who came on, at first as just a consultant, but really he ended up being a co-producer on it and the guy who oversaw my training and oversaw the menus. He was there on the set every day we did any cooking. He really put me through the paces. I started off by just shadowing him in his kitchens. Then he sent me off to a really intensive, week-long training at a culinary school. I was there from six in the morning on, one-on-one, getting a concentrated version of what a chef would have gone through. So a very traditional French training with knife skills and mother sauces and all cooking techniques. I had a basic overview. Then I started doing prep for his kitchens and then I started working on the line as part of his kitchen crew.

This movie has a lot of lush, food-porny shots of food. After a while did it start to get a little gross to shoot food that closely?

No, it wasn't gross at all. Normally you have a food stylist that just tries to make it look good. But Roy is a chef. So when we were preparing food for the movie it all tasted and smelled delicious. We would eat the stuff after we filmed. We really made an effort not to waste. Even when we broke down the pig, all those pig parts went home with different crew members.

To tell a story with food is something I had been curious about doing. I really like movies where they do it well like Jiro Dreams of Sushi or Big Night and especially Eat Drink Man Woman. I felt like on a small, independent film, you really get a lot of bang for not a big budget, because food can really make you feel a lot.
You can read the rest of his Vulture interview here.
[Vulture]
Have a tip we should know? tips@mediaite.com