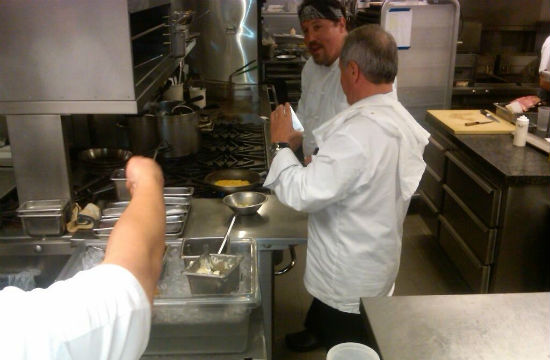 This morning, The Hollywood Reporter dropped some fun legal news: apparently Jon Favreau's upcoming film Chef, an A-list-filled movie about a struggling chef in a food truck, is currently caught in a financial lawsuit full of insanity and escrow accounts.
According to a byzantine-looking injunction filed in the LA Superior Court, here's the allegations of fraud haps: Sous Chef LLC, the production company overseeing Chef (Oh! We get it), claims that Providence Films and its president Xavier Mitchell took $297,175 out of an escrow account they weren't supposed to, and directed it to Mitchell's personal accounts. Apparently the two companies, both co-financing the film, were supposed to each put $3 million into said escrow account, and use that $6 million to buy All The Food Trucks and make All The Cuban Sandwiches for the sake of the movie. But according to The Hollywood Reporter, Mitchell totally didn't:
An attorney for Providence (who hasn't responded to a request for comment) is said to have e-mailed "a purported confirmation of a wire transfer of $2,800,000 to the Escrow Account" on July 10, but what Sous Chef didn't know at the time was that the money never showed up.

Mitchell then instructed an escrowee agent to transfer $297,175 from the escrow account into two other accounts, and says the lawsuit, "neither of which was the Production Account or an account controlled by Sous Chef."

Later, Sous Chef says it got assurances from Providence's attorney that disbursements would be made and that compliance would be passed. But the money didn't come.
This is the second fraud allegation Mitchell's been caught up in. He currently faces another lawsuit, which involved him stealing $500,000:
"As part of the fraud, Mitchell arranged to have an imposter pose as a 93-year-old man (who was hospitalized at the time) and sign escrow."
Is this a movie about chefs, or is this some sort of weird Catch Me If You Can remake? We have no idea, really. But if they have any sort of money problems, Favreau could just drive his truck around LA and raise money for the film. Which is the plot of the film. Oh god, this story is eating itself.
RELATED:
The Plot Of Jon Favreau's Chef, According To His Vines (And Our Imagination)
Ferran Adrià Wants Robert Downey, Jr. To Play Him In Biopic (Who Wouldn't?)
Jon Favreau Trains With Roy Choi For Upcoming Chef Film
Have a tip we should know? tips@mediaite.com