Jose Andres And Paul Kahan To Cook For Spouses At G8 And NATO Summits
Jose Andres And Paul Kahan To Cook At G8 And NATO Summits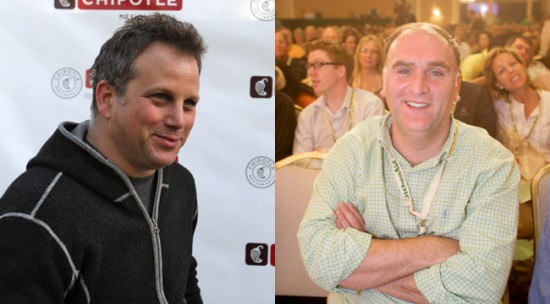 Jose Andres and Paul Kahan have been invited by Michelle Obama to cook at separate events for the spouses of prominent global leaders.
Next weekend promises to be geopolitically packed with news, as world leaders converge at Camp David for the Group of Eight summit on May 18th and, two days later, in Chicago for the NATO summit.
The G8 summit, an annual forum among the leaders of the governments of the world's eight largest economies, will take place next week at the Presidential retreat Camp David.  Originally scheduled to take place in Chicago, the White House moved it at the last minute to provide a more "intimate" and "informal" setting.
According to a press release from the White House via Obama Foodorama, Andres, whose restaurant empire is based out of the DC area, will be responsible for the First Lady's luncheon for the G8 spouses at Camp David, with his courses highlighting produce from the White House Kitchen Gardens.
Then on May 20th, Mrs. Obama will introduce fifty NATO spouses to the South Side neighborhood she grew up in, with a luncheon cooked by Kahan held the Gary Comer Youth Center.  Kahan, known for his Chicago restaurants Publican and Avec (among others),  "worked with Gary Comer Youth Center youth members in preparing the meal."
ObFo also mentions that Kahan is also cooking dinner for the NATO Leaders' spouses at the Art Institute later that night, though details are currently under embargo.
Andres and Kahan are the latest celebrity chefs to cook for Michelle Obama's first spouses luncheons.  Dan Barber served lunch to the First Lady and 31 United Nations spouses at his Stone Barns Center for Food And Agriculture back in 2010, where each guest left with a pot of honey from the White House bees.
Have a tip we should know? [email protected]