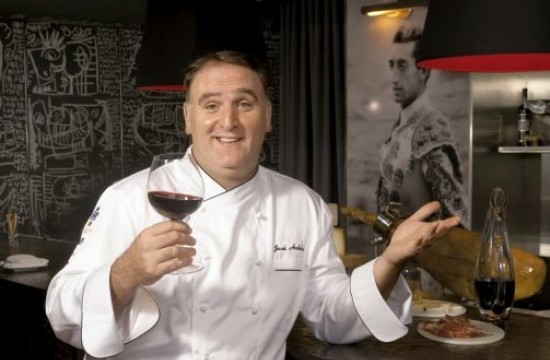 This weekend, ebullient el Bulli alum José Andres announced that not only did he admire Chipotle and want to pull off the success of Chipotle, he's actually going to do a Chipotle — or, at least, get involved in fast-food restaurants.
"José wants to contribute to that, creating a fast-food restaurant," he said to Vanity Fair. "Which one? I cannot tell you yet. But will you see me doing fast-food restaurants in the next year, year and a half? Yes."
Citing a desire to improve the lives and the health of millions of people at once, Andres believes that fast-food chains focusing on healthy ingredients would accomplish that in one stroke. "I've been saying for a while that more and more chefs, we need to be [better at] influencing how to feed the many," he said, pointing out the success of Steven Ells' mega-healthy, mega-popular Chipotle. "We only feed the few." He wouldn't go into details, but said that plans were already underway.
And, like any perfectly ruthless fast food mogul, he threw plenty of shade at his non-Chipotle competitors: "Let me ask you: Who do you prefer, a clown organizing your menu—with all due respect to Mr. McDonald—or a chef? I do believe it's a very simple answer."
Proposal: José Andres serves as the mascot. He's already a human avatar of joy.
RELATED:
Pharrell Auctioning Off Arby's Hat, Will Arby's Take a Bite?
Peach v. Burrito: British Chef Sues Chipotle Founder For Trying To Make Him Rip Off David Chang
WATCH: José Andrés Invites Speaker Boehner to Minibar to Discuss Immigration Reform
Have a tip we should know? tips@mediaite.com