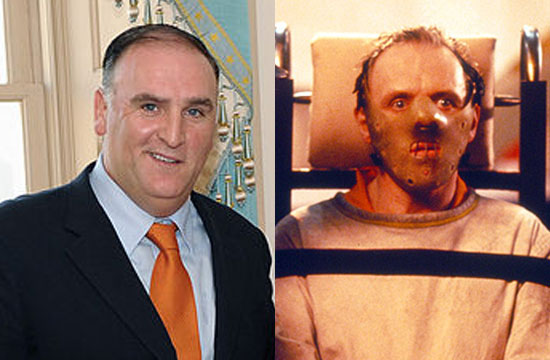 Jose Andres is working as a culinary consultant for NBC's new TV series Hannibal, where he's been teaching famous cannibal Hannibal Lecter how to prepare loin from a la Escoffier. Who knew he was such a depraved monster?!
The Washington Post revealed that Andres, whose penchant for offal is perfectly all right when it doesn't involve people, was tapped by the series producer Bryan Fuller to bring a high level of culinary sophistication to a pre-incarceration Lecter, portrayed by Mads Mikkelsen. Fuller, who forbade Mikkelsen from reading "serial killer books"  ("Look at cookbooks!") described the infamous serial killer's thought process as thus:  "You are a pig of a human being and you deserve to become someone's bacon." Given Andres's influence, that bacon might be wrapped around a date.
According to Fuller, he wants Lecter's character to have the same passion for eating human flesh as Andres does for eating food, and if you've ever seen Jose Andres in action, he really, really, really loves food.
So, uh, why are you making the act of eating people so palatable? "This is beyond cannibalism," says Andres, probably skipping around with joy. "It's about people who have dark sides and dark stories…I'm going to lose customers doing this? I don't think so."
Dude. We thought you were a sweet, excitable man who loved happy porks and whispering to tomatoes, gently prying secrets from their fleshy innards. We thought you wanted nothing more than to use food in diplomacy and pass the art of Spanish cooking onto the next generation. We really didn't want to think of you having a dark side, where you're gleefully discussing how to prepare human lungs al picante. 
(Why would this have been less disturbing if Chris Cosentino were the one being consulted on cannibalism?)
[Washington Post h/t Eater]
Have a tip we should know? [email protected]