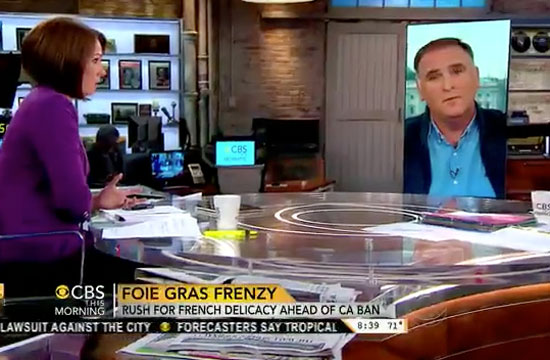 There's ten days left to eat foie gras in California before the controversial ban is put in place, and CBS This Morning devoted a segment to how the ban was affecting farmers, activists, and restauranteurs, featuring Michael "The Angry One" Voltaggio with a plate of foie. But they also wanted a guest who could speak passionately on the subject, so who better than Jose Andres projected onto a random green screen propped up on the table where the guest is supposed to sit?
Despite the slightly awkward configuration of the table, Andres, speaking from Washington, slammed California legislators for passing a frivolous law that destroyed jobs while overseeing a faltering economy (because Inland California is a pretty bad place to be).  "We have bigger issues in Americans [sic] like making sure children are not hungry, creating jobs, et cetera, et cetera," he said. "That's the real issues to me."
Moreover, he was furious to see legislators targeting smaller farms that treated animals humanely, as opposed to more wide-scale problems in industrial agriculture. "It is very funny to me that no legislator has driven to the farm to see how actually at that farm operates, and you cannot be legislating without knowing," he said to Charlie Rose.
"I don't think that we are doing something wrong to those animals. Actually, when I go to those farms, the only thing I see is very happy ducks, very happy chickens, very happy porks and things are improving."
Should animal rights activists target "happy porks" next, there may be an enormous uprising in America, because while foie gras is for the rich, bacon is pretty much a democratic right at this point.
Have a tip we should know? tips@mediaite.com