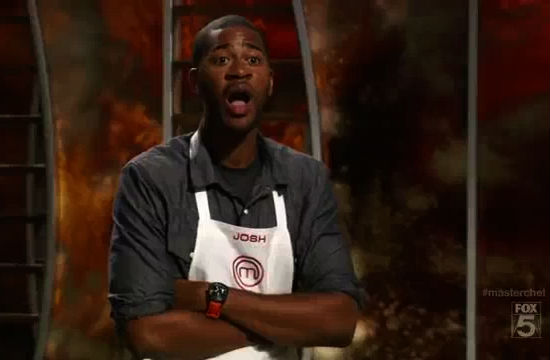 After breaking news of MasterChef Season 3 runner-up Josh Marks' bizarre arrest last week, TMZ did some digging into his arrest record and found more evidence of #strangecrimes. Although there wasn't any mention of violence, they uncovered that he would frequently break into a Chicago condo complex, claiming that he lived there. (Perhaps Gordon Ramsay, who as you may or may not recall, "made Josh God," also bestowed him with fancy new digs?) According to TMZ:
Law enforcement sources tell TMZ … Marks was arrested in June for trespassing in a Chicago condo complex — after allegedly sneaking in on numerous occasions and bizarrely telling residents he lived there. He DID NOT.

At the time, the building sent a WARNING to residents to be on the lookout for a "very tall" African-American man, who "enters the building by catching the door." They were told to call 911. The case is still pending.
As for that cop he attacked, swung punches at, and whose gun he made a grab for, Josh remains charged with two felonies and faces up to 14 years in prison. He's currently in a hospital undergoing psychiatric evaluation, as his lawyers claim he was experiencing some sort of mental break when the crime occurred.
[TMZ]
RELATED:
Josh Marks Sponsor Clarifies He's Still On Roster: 'Just Making Sure He's Healthy'
Arrested MasterChef Finalist Josh Marks Dropped By Sponsors
Josh Marks' Family Releases Statement On His Arrest, 'He Is A Gentle Giant'
MasterChef Runner-Up Arrested After Violent Attack, Claims Gordon Ramsay Possessed Him
Have a tip we should know? tips@mediaite.com