Josh Marks Couldn't Be Treated Because No One Would Accept His Insurance, Family Says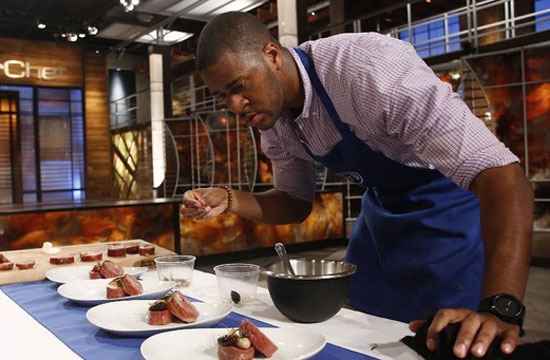 As more details emerge about the runnerup MasterChef Josh Marks and his death, the more clear the picture becomes — and it's definitely a heartbreaker.
CNN has the scoop from Marks' family, speaking to his mother and stepfather. But among the details of the story is that Marks was only officially diagnosed with schizophrenia on Thursday, on top of his already diagnosed bipolar disorder. His mother, Paulette Mitchell, said to CNN that the diagnosis particularly upset Marks, and that his "mental break" — his arrest in July — was "a cry for help."
And the sad news about it all? According to CNN, Marks wasn't able to find a full-time treatment center that would accept his insurance.
Mitchell "continually ran into roadblocks" as she put her focus into finding help for her son, [Lisa Butler, the family's lawyer] said. "Access to long-term, in-patient mental health care is extremely limited. How can you appropriately treat your loved one's mental health challenges if access to necessary care is virtually non-existent?"

She "felt as if her hands were tied" but "she was doing everything she could to get him in treatment," Butler said. Mitchell enrolled her son in an outpatient program that was "the best available through insurance," she said.
The quote that nails the sad reality of Marks' struggle, from Butler: "It is overwhelming to think that with proper, intensive treatment, Joshua may still be with us… He was a jewel with so much talent to offer this world. But, in his state of mind, he turned to the streets for a gun and easily got it."
Marks' family said to CNN that they didn't notice any sign of mental illness until he had finished filming MasterChef. The reality of filming a reality show "took a toll" on Marks, said his stepfather, Gabriel Mitchell:
"Josh had a following of fans and was put on a 'celebrity' type pedestal, with the expectation from others that there was money and fame; but, his personal reality was that he was struggling mentally and financially… I think people expect that you come away from a reality show and have it made. That's not necessarily the case."
You can find more details about Marks' death over at CNN; warning — it's a tearjerker.
[CNN]
RELATED:
MasterChef Finalist Josh Marks Found Dead in Apparent Suicide
WATCH: Gordon Ramsay Hopes Former Hell's Kitchen Winner Will Sort Out Her Drug Issues
WATCH: Josh Marks Admits To Having Bipolar Disorder, Source Blames Violent Arrest On Manic Episode
Have a tip we should know? [email protected]