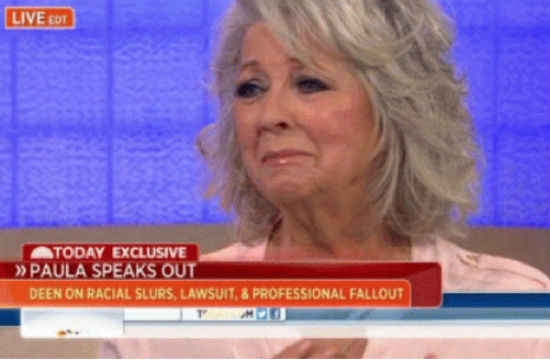 In a motion with the consequence of depriving us of joy and schadenfreude, a judge has ruled that the infamous videotaped Paula Deen deposition — the one where she ended up revealing her use of the n-word and her desires for a slave-staffed wedding — will not be released to the public.
TMZ reports that the judge presiding over the lawsuit that started the entire race-basting hullaballoo has ruled to keep the video under wraps, and the gossip site speculates that the video will likely "never see the light of day." Apparently Deen is the reason the explosive, "colorful" video will remain sealed: "Deen was obviously terrified the employee would leak the deposition video to the media," TMZ writes, "so last week, she filed docs asking the judge to block its release."
Context is everything, and we're sad that we'll never see the video so that we could gauge Deen's true intentions. As an example, we'll add punctutation to an excerpt from Deen's transcript:
We…hear a lot of things in the kitchen. Things that they — that black people will say to each other? If we are relaying something that was said, "a problem that we're discussing?" That's not said in a mean way!

What about jokes, if somebody is telling a joke that's got —
It's just what they are! They're jokes?

Okay. Would you consider those to be using the N word in a mean way?
That's — that's kind of hard. Most — most jokes are about Jewish people? Rednecks? Black folks? Most jokes target…I don't know? I didn't make up the joke, I don't know. I can't — I don't know.
Well, that was a futile exercise — everything still sounds racist.
[TMZ]
RELATED:
Paula Deen Defends Use Of 'N-Word', Wants Black Employees To Dress Like Slaves (UPDATED: And She's Fired)
TMZ Obtains Paula Deen's 'N-Word' Transcript, Her Lawyers Respond (UPDATED With Full Transcript)
Oh Boy: Civil Rights Group Alleges Paula Deen Referred To Black Employee As 'Little Monkey', Paid Black Workers Less Than White Workers
Have a tip we should know? [email protected]