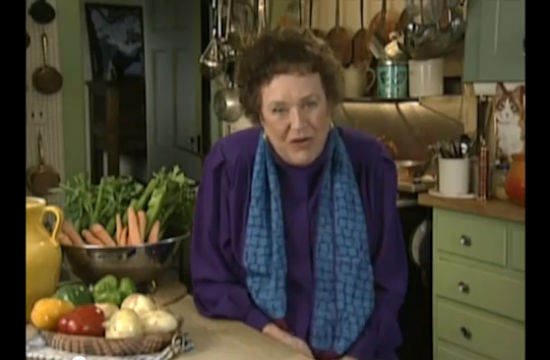 Remember that utterly mind-blowing Mr. Rogers "Garden of Your Mind" remix that went viral a couple of months ago? You know, the one you replayed over and over again? Well, the guy who mixed that song for PBS Digital Studios (John D. Boswell, a.k.a. melodysheep) has applied his unique skill to the canon of Julia Child, and the outcome is almost as good (which is to say, it's pretty damned fantastic).
"Keep On Cooking" opens with Julia asking the question, "What makes a great chef?" Her first few deliciously auto-tuned notes answer: "Meltingly addictive hot chocolate truffles/Balls of creamy chocolate filling that are rolled in fresh crumbs/Let's have another piece."
Like "Garden of Your Mind," "Keep on Cooking" contains tattooably wise proverbs such as "You cannot define these in a recipe; you can only know them," and Julia's special brand of winking indulgence: "You need some fat in your diet, or your body can't process your vitamins!"
Her catchy chorus breaks after the transcendent, "Bring on the roast potatoes/Bring on the Montrachet/This is what good cooking is all about" hook:
"Cooking, cooking, keep on cooking, this is the way to live.
Cooking, cooking, keep on cooking, this is the way to eat.
Bon Appetit!"
We're also gently reminded that JC was the original self-assured, sexually liberated Cosmo girl: "Fast and tough and rough — I'm just going to show you how you do it." (Of course, this is simply A Guide To Kneading Dough, And Not A Specific Tutorial On How To Pleasure Julia Child At All.)
Check out the vid below. It's safe to say we love our jobs. Almost as much as we love transpop remixes of all the things from our childhood. Happy 100th Birthday, Julia.
Have a tip we should know? [email protected]