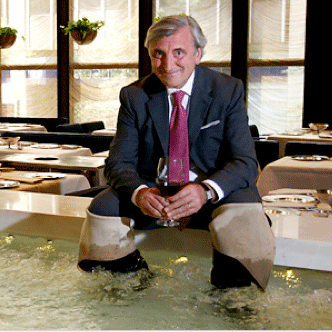 The inglorious fall of the iconic Four Seasons restaurant continues, as its managing partner Julian Niccolini, was arraigned yesterday, charged with the sexual abuse of a party guest at the Seagram Building restaurant, on May 9th of this year. There's two accounts of the incident so far, per The New York Times.
The indictment:
Asking for bail of $10,000, a prosecutor from the Manhattan district attorney's office said at the arraignment that Mr. Niccolini had "sexually attacked" the woman "with such force that he ripped her bra open and caused significant scratch marks on her back and bruising on her hip."
And the defense:
Mr. Niccolini's lawyer, John Moscow, told the judge that the encounter had taken place in a bar at the restaurant, a few feet from a bartender, while there was a party going on in an adjoining room and a wedding was underway in another room.
The New York Post provides color, speaking with an unidentified police source who said of the unnamed victim, "her back was pretty scratched up", and that both she and Niccolini were intoxicated at the time of the incident. The paper also notes this isn't the first sexual harassment allegation against Niccolini, who was accused of propositioning a waitress in 1992.
The restaurant itself suffered its own assault this year, when it was announced its landlord Aby Rosen will not renew the four decade-old restaurant's lease, despite all attempts to renovate the Four Seasons interior denied by the Landmarks Preservation Commission.
 The "ripped from the headlines" Law & Order SVU episode sure to follow practically writes itself.
Have a tip we should know? tips@mediaite.com