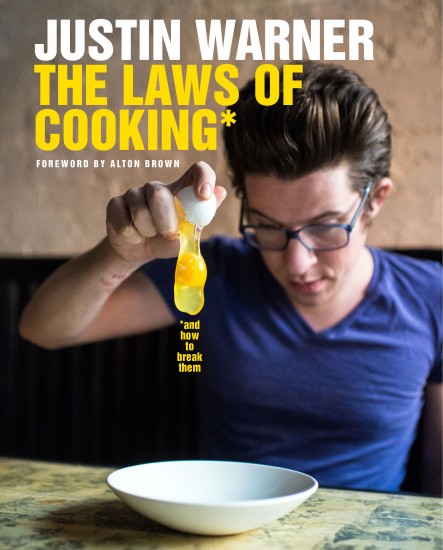 The law of Peanut Butter and Jelly is certainly one we can all get behind, as are the laws of General Tso's Chicken and Cheese Fries. In Justin Warner's new cook book, "The Laws of Cooking" he teaches us these incredibly important rules, why they exist, how to work with them, and how to break them.
We've loved Warner pretty much since the beginning. He's a badass chef who won the eighth season of Food Network Star and was the co-owner of Michelin-starred Do or Dine in Brooklyn which tragically (and we do not use that word lightly) closed in September. He has all the makings of a celebrity chef but isn't at Guy Fieri or Bobby Flay status at this point, which kind of makes him cooler. The book is a manifestation of everything we love about him.
Alton Brown did the foreward and talked about Warner's journey on Food Network Star and what makes him so special. Of him, he says, "the culinary force is strong," and of the book, Brown says it's "unlike any other." We're inclined to agree.
#Foodporn extraordinaire Daniel Krieger (if you don't know him, follow his Instagram account now) did the photography and the book would be worth reading just for that, but there's so much more to the book than that. Most cook books include recipes, but don't tell you why they work. Warner explains the laws of cooking, and why flavors like sour and sweet, or why fat, sweet and canvas go together. He asks, "What's Peking Duck if not a PB&J? The fatty duck is the peanut butter; the sweet bean sauce is the grape jelly; the pancake or bun is the bread." Aha! This book will not only make you a better potluck dinner guest, but it will make you a better chef.
The book is sectioned off by law. Each law consists of several different recipes from canapé to soup, to cold and hot fish dishes all the way through desserts. For many of the recipes, he includes a "Hold It" option, which will teach you how to store the food for later. Other options include "Plate It" (you get the idea), "Cheat It," which provides work arounds (think, using store bought items for some recipes instead of homemade), and "Break It," our personal favorite, which provides another way to make the dish that takes it to a different place. Think, making meat dishes vegan, using excess ingredients for drinks, and so much more.
We could go on all day about how much we love this book but it's best you see for yourself. Have you made any of the recipes from this book? Let us know in the comments!
Have a tip we should know? tips@mediaite.com