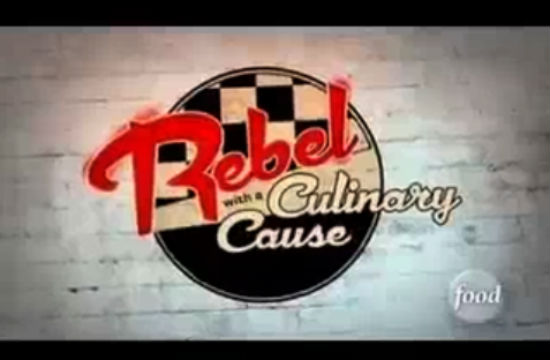 We're fairly comfortable at this point with our shameless endorsement of Justin Warner to win this season of Food Network Star. Frankly, he seems The Braiser-iest of them all (by which we mean he reads the most books), in spite of the fact that we'd happily curl up at Martie's feet while she tells us stories, go crab-picking with Michelle, or have really sincere conversations with Yvan.
On last night's episode, each mentor was slated to lose a member of his or her team, bringing us our three finalists up for audience vote. But, underdog Alton Brown lived up to his reputation, and The Network agreed to allow both of his contestants to stay. So both Justin and Martie got to shoot pilots along with Yvan from Team Giada and Michelle from Team Bobby.
The most unique pilot by far was Justin's, which totally embraced his Baby Alton Brown shtick and ran with it. Rebel with a Culinary Cause was pretty obviously shot as a Good Eats revamp, with a vintage episode of Alton making caesar salad screened at the top. Then, Justin tackled a wacky, elegant interpretation which would have made us feel like molecular gastronomers had we been cooking along at home. (Because adding gelatin to stuff = molecular gastronomy, right? Basically?)
Voting lines are still open at foodnetwork.com/star, where you can check out each of the remaining contestants' pilots and vote up to ten times per day for your Food Network Star of choice. Lines stay open till 5pm ET tomorrow, Tuesday, July 17th, so you still have two days of voting ahead of you. Of course, as official supporters of the Brown/Warner 2012 Campaign, we've taken the liberty of giving you a sneak peek of Justin's pilot below. Check out his grilled endive with caesar aspic. Happy voting!
Have a tip we should know? tips@mediaite.com