Justin Warner's Moped Stolen, Falls Victim to Curse of Food Network Star Grand Theft Auto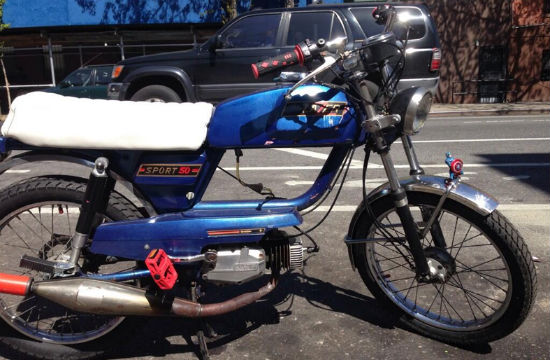 If, indeed, a ragtag team of Food Network Star copycat bandits exist, our fingers are crossed for more (harmless) dumb crimes. Recall, if you will, the never-ending saga of Guy Fieri's stolen Lamborghini, which was taken from the dealership by a 17-year-old who rappelled down from the ceiling and drove the car straight out of the building like James Bond. He was later arrested and the car found in his storage unit when, less like James Bond, he was charged in a drive-by shooting he attempted on a motorcycle involving the new boyfriend of a former flame. Oh, and his friends also tried to bust him out of juvy with wire-cutters and a sledgehammer at one point.
The good news is, Justin Warner's copycat criminals are also teenagers, and the better news is, from what we can tell, they haven't tried to hurt anyone.
According to security footage, two 13- to 14-year-old kids were spotted walking into his building's gated parking lot last Sunday at 5:30pm, taking the 1978 Lazer Sport 50, and walking away.
"I just thought it was like, 'That's Justin's moped,' no one's going to touch it," Justin told DNAInfo. "This thing sticks out like a sore thumb. And it's loud."
"I guarantee they don't even know how to ride it or start it," he added. "They'll have to ask an adult."
But the man comes in peace. He's uninterested in pursuing legal action (as much as we'd like to see other attempts at juvy jail breaks), and simply wants the kids to return his bike. What is this, the lesbian suburbs? Actually, wait, that's a great idea. Clarion call to The Sisterhood: Bed-Stuy is the new Slope. …And, somehow, we've veered off-topic.
Please return Justin's bike, children. We promise he's super rad, and if you knew him, you'd want him to remain in custody of his prized possessions.
[DNAInfo]
RELATED:
Everything You Need To Know About Guy Fieri's Stolen Lamborghini
Guy Fieri's Lamborghini Thief's Friends Try To Break Him Out Of Juvy Jail
Question Of The Year Answered: Where Is Guy Fieri's Stolen Lamborghini?
Guy Fieri Lambo Update: Prosecutors Call For More Charges Against Teen Thief
Guy Fieri's Lamborghini Thief Claims He Cannot Get Fair Trial Due To Notorious Reputation As An Idiot
Have a tip we should know? tips@mediaite.com