Kathie Lee Gifford's Misguided Defense Of Paula Deen: 'The Facts Are Not Yet In' (VIDEO)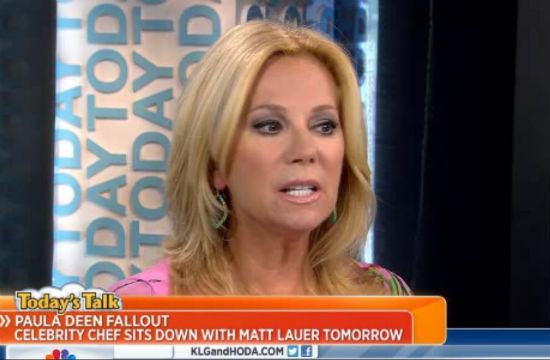 Uhh, yes they are, Kathie Lee. That's the legal definition of a deposition: the process of giving sworn evidence. And Paula Deen was the one being deposed, so she's providing the aforementioned facts, under oath, about herself.
At the top of Today's Fourth Hour this morning, Kathie Lee and Hoda tackled the Paula Deen scandal, mentioning that she was going to be on the show tomorrow for her makeup interview with Matt Lauer.
It seems, however, that Kathie Lee was so traumatized by her own libel lawsuit that she felt compelled to make the case for Paula's defense:
"I'm concerned about the direction this thing is going. The facts are not yet in. This lawsuit that's taking place was just in the discovery process, and this stuff allegedly has happened. I'm just a little worried that we're condemning a person. I don't know the facts. I don't think anybody knows the facts yet. Put yourself — I've been in that position, where I've been accused of something horrendous that ended up — it wasn't true at all. And it takes a long time to get your reputation back. I feel for her. It may all be true, but the point is, we don't know yet, and I don't think we should judge somebody until we know the facts. She's innocent until proven guilty."
But here's the thing, KLG: there's a difference between someone claiming something nasty about you, and then you going to court for it, versus you being under oath yourself, and freely admitting that you once fantasized about throwing a plantation-themed wedding with a waitstaff dressed like slaves. Allow us to remind you of Paula Deen's exact words, Kathie, so you can be sure to have all the facts:
"The whole entire waiter staff was middle-aged black men, and they had on beautiful white jackets with a black bow tie. I mean, it was really impressive. That restaurant represented a certain era in America…after the Civil War, during the Civil War, before the Civil War…It was not only black men, it was black women…I would say they were slaves."
It was impressive, Kathie! But Paula would never refer to those waiters by the N-word, "because that's not what these men were. They were professional black men doing a fabulous job." That's another direct quote, straight out the the Butter Queen's mouth, while under oath. But she "did not mean anything derogatory."
The issue here, Kath (can we call you Kath?), is not that Paula Deen has been accused of racism. It's that she doesn't even realize the implications of what she's saying, why it's offensive, or why she comes off sounding like a total racist. Plantation. Wedding.
You can check out a clip of this morning's segment below, complete with Hoda's awkward interjections.
Visit NBCNews.com for breaking news, world news, and news about the economy
RELATED:
WATCH: Jamie & Bobby Deen Say Their Mom Isn't Racist Because She Once Bought Hank Aaron PJs
Frank Bruni Flips On Paula Deen: Once His 'Champion Of Downscale Cooking' Now 'Deep-Fried Boor'
The Neelys Respond To Paula Deen Scandal
Paula Deen Sponsorship Watch: Who's Firing Her Or 'Monitoring The Situation'
WATCH: GMA Asks Bobby Flay To Comment On Paula Deen, Results Are Predictably Awkward
Food Network FIRES Paula Deen
Have a tip we should know? tips@mediaite.com