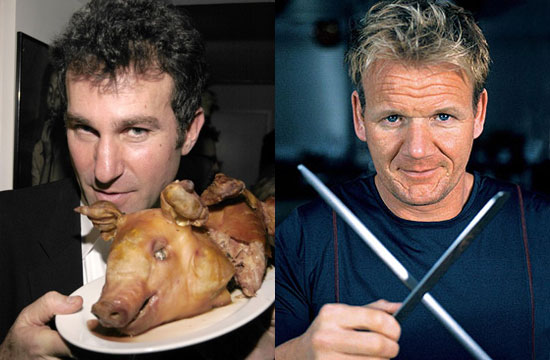 Months ago (was it really months ago?), the internet blew up when it learned that Gordon Ramsay and his team had filed for a British trademark for The Spotted Pig, a name for a restaurant which just so happened to belong to a famous female chef and backed by a famous redheaded chef quasi-nemesis of Ramsay's. After a brief spate of ugliness, in which people were called fat, the whole matter was quietly settled with a "Whatevs" (literally), but in an interview with Food Republic, Spotted Pig owner Ken Friedman revealed exactly why the entire mess happened in the first place.
"If we take him at his word, what he told us is that people who work for him are very aggressive," he explained. "They decided that they are going to get into the gastropub business in a big way and reserved every single gastropubby name they could, including, but not limited to, The Spotted Pig."
But while Ramsay was calling out Jamie Oliver for lusting after his wife (maybe), he'd also sent a very polite email to Friedman apologizing for the "fuck up" and promising to return the name to him and his partners, April Bloomfield and Mario Batali.
We said, "With all due respect, you don't have the name, you just applied for it and we're going to challenge it and you're not going to get it anyway, so why don't you just drop the challenge?" And he did. Everyone thinks he's an asshole and I don't want to say that he's not because he probably is. I don't really know him. He's been here and has said complimentary things to people about us and about April specifically. He's probably a jerk, but he wasn't a jerk in this regard.
That is probably the wisest, most apt thing anyone has ever said about Gordon Ramsay. Ken Friedman, you so full of wisdoms. Wisdoms like these, to be precise:
I don't have a relationship with hard drugs, but weed should be legalized. You shouldn't have to call up a criminal to come into your home to open up his bag to sell you weed.
Have a tip we should know? tips@mediaite.com