Kitchen Confidential Episode 5 Recap: 'Drunk Ladies Do Not Turn Down Dessert'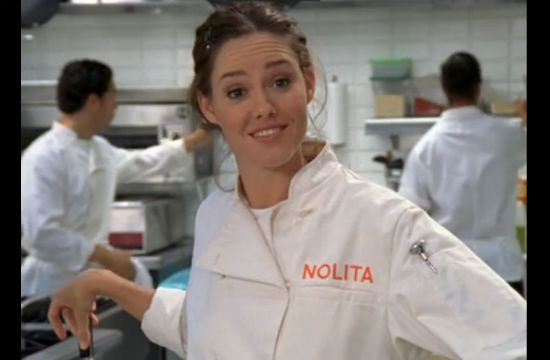 This week's episode opens with the importance of breakfast. In the case of a recovering addict, it takes the form of a healthy one-two punch of caffeine and nicotine to awaken the senses and speed up his metabolism. Upon first strolling into Nolita, Jack Bourdain (Bradley Cooper) is greeted with the usual bevy of disasters: three waiters called in sick to attend a Shakira concert (whoa 2005), The Post is reporting that Jack snubbed Lindsay Lohan in the restaurant the night before, and someone is stuffing Jim's (John Francis Daley) locker full of Spanish porn again. Uh, yeah, that last problem takes care of itself pretty quickly, following Jack's seizure of the offending materials.
Pino (Frank Langella) demands Jack stay in the front of the house that night to play down the bad Post press by adequately kissing patron ass. So, while Jack is doing his duty out front, he must leave someone in charge in the kitchen. Enter Chef Becky (Erinn Hayes). Yeah, this is the episode that finally introduces the awesome lady chef into a kitchen full of men. Becky has a long and satisfying character arc which extends throughout the rest of the series, but before we get ahead of ourselves, the boys are obviously flustered by the presence of lady vapors in the kitchen.
She quickly proves she can hang with the guys, though, with a scathing comment directed towards Seth's (Nicholas Brendon) vagina. Steven (Owain Yeoman) is peeved he's been overlooked for the leadership position, but Jack maintains that Becky has experience running a restaurant and, thus, stands by his decision to make her his new second-in-command. Steven and Seth try to engage in a bit of hazing, although Seth travels further down the sexual harassment rabbit hole than anywhere else. Becky, however, is no stranger to being the only bird in the boys' club, so, she responds with her signature touch-me-again-and-you'll-be-traumatized-for-life defensive move. It's something called "the shocker." And yes, it's pretty much the shocker you remember from high school, only tailored to the male anatomy. Color Steven aroused. Sigh.
At the after-hours bar that night, Becky shares rather an embarrassing story about Jack from when they were in culinary school together that leads to the horrifying resurrection of the nickname "Mr. Softie." Yeah, you'll just have to watch the episode to find out what that has to do with a foie gras terrine.
Several tequila shots later, we find the crew again in the morning, after Becky's very self-satisfying morning run, and with Steven feeling "like a pig pooped in his head." But, B has successfully bonded with the menfolk (to Jack's slight annoyance)! Ah, betrayal bonding. How sweet it is.
Mimi's (Bonnie Somerville) awkward college friend Jessica comes to visit, and, while Mimi's former "project" is just as weird as ever, she shows up with a hottie hot hot boyfriend named Kyle. Mimi tries to impress with Jack, but, of course, he makes like they're together and she's too repulsed to play along. Later, Jess's boyf asks if the kitchen can do something special with the engagement ring he's brought to propose with. Mimi's face comes dangerously close to exploding. Instead, she drinks a bottle of champagne and blows the whistle on the the big moment before it happens. Proposal ruined. Conclusion to last week's episode: Mimi is, in fact, made of money and bitterness.
Meanwhile, Jack's insecurities breed as diners grow continually impressed by Becky's cooking, while she runs the kitchen with humble efficiency in the back. So he pulls her braised short rib dish, telling her the diners hate it so he can swoop in with a dish of his own to feel like the hero. Whattadick! What kind of Peggy Olsen/Don Draper nonsense is that, Bourdain? Cut to Becky sobbing in the alley, because, as Mad Men taught us, ladies are not permitted to cry in the workplace.
Jack's heart is warmed by her admission that she made him "Mr. Softie" all those years ago by sabotaging his terrine back in culinary school with peanut oil. He is not, however, so heartwarmed that he admits diners actually loved Becky's short ribs. Instead, he benevolently offers to allow her to keep her new position on the line, and she gratefully accepts. Well, he's gotta maintain his skeezy interior at least, right?
The episode also features a fish vs. cake-off between Seth and Teddy (John Cho), which results in a very gastrointestinally traumatized puppy. But you'll have to check out the episode below to find out more about that.
Have a tip we should know? tips@mediaite.com