Joey Chestnut And Takeru Kobayashi Celebrate Fourth Of July By Continuing Hot Dog Feud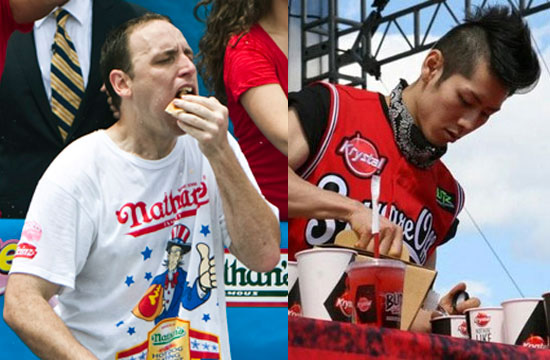 Nowhere else in the world can people have serious feuds over things as hypnotically disgusting as dunking hot dogs into cups of water and cramming them in your face, but yesterday's hot dog eating contests proved that the tiniest things make a difference in the quest for supremacy.
Take the feud between Japanese competitive eater Takeru Kobayashi and his archnemesis, Joey "Jaws" Chestnut, undefeated Nathan's Hot Dog Eating Contest champion for the past six years. After being banned from Nathan's in 2010 thanks to a contract dispute (and following a spectacular arrest), Kobayashi, himself a six-time former champion, decided to pack his things up and eat hot dogs elsewhere for the Fourth of July. Last year, eating on the rooftop of the Ritz-Carlton next to a television showing the Nathan's contest, he beat Chestnut by a single hot dog.
This year at the Crif Dog Classic in Brooklyn, Kobayashi downed 58.5 hot dogs, while over in Coney Island, Chestnut downed 68. Though earlier numbers reported that Kobayashi beat Chestnut by half a dog, Chestnut, upon hearing the news, refused to recognize Kobayashi's then-supremacy, because, as history shows, Nathan's has a 97-year-old hold on hot dog eating contests and is therefore the best. "I think even Kobayashi would agree that the record still stands at 68," Chestnut said. "And if he wants to compete with me on the Fourth of July, he knows what he has to do: sign a simple contract and man up."
Whatever, guys, you both won a combined total of $25,ooo for eating hot dogs. Can't you just shake hands and be friends? We mean, there's something to be said for being competitive and being the best at what you do, but maybe not for things like this:
[International Business Times]
Correction: Earlier numbers reported that Kobayashi had beaten Chestnut by eating 68.5 hotdogs. Upon review, RecordSetter, which published the first count, stated that Kobayashi only ate 58.5 hotdogs.
Have a tip we should know? tips@mediaite.com