Krissi 'Das Racist!' Biasiello Has a Podcast Because She's Kind of Famous-Ish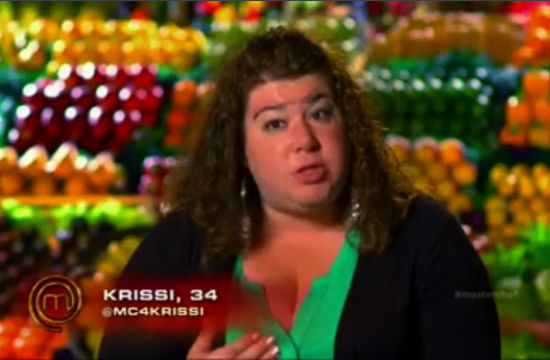 Hey everybody! Remember Krissi Biasiello? That MasterChef person from Season 4 who did the stuff with the name-calling and the racism? Were you totally done with her as soon as Luca won MasterChef? Because guess what: she's not done with you and your precious, commodified eyeballs and ears.
Well — just your ears. She's getting her own podcast, entitled — wait for it — Fork Off!. (Get it? Because it sounds like a swear word Krissi would say, and not like another podcast that already exists.) Here is a press release we received about the podcast, verbatim and unedited:
Krissi Biasiello, the self-proclaimed "Loud Mouth" who took the nation by storm this on this past season of FOX's Masterchef debuted her own radio show "Fork Off w/ Krissi" which will air every Monday Night on the Totally Driven Entertainment Network.

Krissi's show was everything you would expect from the Rotund Chef herself, with an interview from another MasterChef from Season 4 Malcolm Green, who was the Pro Football player and has become good friends with Krissi.

They discussed the show, some of the challenges they faced, Malcolm's elimination as well as his new cheesecake business venture

Krissi also introduced to the world two of her closest friends, Nicole "Driven Delorian" Dorian which discusses celebrity gossip with Krissi, and Nick "Snorky" Jenkins which discusses the Top sports stories.

Not only did you get all of this, Krissi also discussed a Philly neighborhood issues, and gave everyone a great roasted peppers tailgate recipe.
We've been facepalming ever since we got this email. We're going to keep facepalming until Krissi realizes that fame is done with her (or that she should, at the very least, hire a publicist who can use grammar).
We might be holding our faces in our palms for a while. Please don't let us suffocate.
RELATED:
Today In Racism: A Masterchef-testant's N-Word Tweets
WATCH: MasterChef's Krissi Resorts to Flicking Marinara Sauce at Haters
MasterChef Meltdown: 'I Am Seriously Going To Go To Jail Today' (VIDEO)
Have a tip we should know? tips@mediaite.com