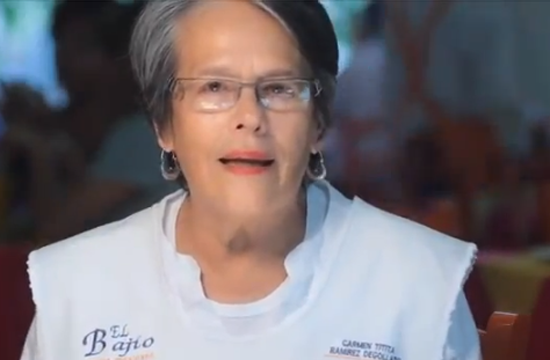 Welcome to Lady Chef Stampede, Amanda Cohen's series about the world's most influential Lady Chefs! Click here to read her Q & A with us about the column, or read on to learn more about this week's Lady Chef…
I'm holding a Lady Chef Stampede, posting about the dozens of women who've changed the history of food, now and in the past! Whether they're chefs, restauranteurs, or writers, these are either the women on whose shoulders we're all standing, or the women pushing food forward today. I've covered a lot of Mexican lady chefs in the Lady Chef Stampede, which flies in the face of the stereotype of Mexican culture as being marinated in machismo. I recently wrote about the refined, elegant, European-influenced Mexican food of Patricia Quintana, so today I thought it would be only fair to discuss the Yin to her Yang, Carmen Ramirez Degollado, who runs 10 of the most popular restaurants in Mexico City.
Born Carmen Hernández Oropeza in the state of Veracruz (as was Patricia Quintana), Degollado grew up relatively poor, unlike Quintana who grew up on her family's ranch. Her father passed away when she was a kid and she was raised by her mother, an aunt, and a nanny, all three of whom taught her how to cook. At 17 she married Raúl Ramírez Degollado and, after her nanny taught her how to cook a whole slew of traditional family recipes, she and her husband moved to Mexico City for his job.
Degollado was a home cook for decades, and it was the popularity of her food amongst her husband's friends and colleagues that hinted to her that she (and by extension, Mexican cuisine) might have something to offer the world. In 1972, her husband retired and bought the original El Bajío restaurant, located in Azcapotzalco, an industrial part of the city. Raúl wanted to serve the Michoacán carnitas and barbacoa that he grew up with and, with a buddy as his business partner, the restaurant seemed like a perfect way to live out his days. Carmen was against the rundown location, but once the restaurant was opened she became an integral part of its operations.
In the beginning, her biggest contribution was picking up the food fresh everyday at La Merced, the main market in Mexico City. But in 1978, Raúl was diagnosed with cancer and in 1981 he died. A widow with five children at the age of 40, Carmen saw no other options – she took over the restaurant. Her two sons would go on to other jobs, but her three daughters would eventually all work for El Bajío in one capacity or another — however, it was Carmen who stamped it with her identity. After Raúl's death, she added dishes she'd learned from her nanny to the menu, and brought in more food from Veracruz, Oaxaca, and Puebla. She hired 15 waiters and gave them intense training and, always a lover of Mexican art, she began decorating the restaurant with traditional handicrafts and folk art. In 1990, she decorated the restaurant for the Day of the Dead and held a big press dinner, kicking off the tradition of decorating the restaurant for every important Mexican holiday.
Her extensive contacts in the Mexican arts scene, and her advocacy of traditional Mexican cuisine (including some rare dishes), have made El Bajío a wildly popular destination for locals and tourists alike. With minimal advertising, and mostly word-of-mouth marketing, it's become so successful that, as the Mexican press likes to write over and over again, Carmen was able to send all of her children to the best private universities in Mexico. In honor of her husband, she has kept barbacoa and Michoacán carnitas on the menu and El Bajío has become the place to eat them on the weekends for locals.
A fierce protector of traditional Mexican cuisine, Carmen acknowledges that the food she makes is intensely time-consuming and exhausting to prepare. The carnitas are cooked by men called carniteros, mostly the descendants of the restaurant's original carniteros, who live either in or near the restaurant and who get up every morning at 3AM to begin preparing their meat. Refusing to use microwaves, the majority of her kitchen staff is made up of women each of whom specializes in one specific dish, whether it be empanadas or tamales, and she often hosts events dedicated to the comal (the traditional griddle) and the olla (the clay stew pot used in Mexican cooking), or even to metates (grinding stones).
In 1989 when one of her daughters went to cooking school in Spain, Carmen began traveling outside the country to teach, prepare special meals, and do cooking demonstrations at the James Beard House, Spain's San Sebastián Gastronomika, the Culinary Institute of America in Napa, and many more. She has also written a cookbook devoted to preserving the recipes she learned from her nanny, as well as traditional dishes from her native Veracruz.
With the encouragement of her children, Carmen opened four other locations of El Bajío in 2007 across Mexico City, and today she owns 10 different locations. In 2007, Mark Bittman visited one of them and threw around words like "sublime", "best and most distinctive" and "in the world" in the New York Times. Her international status was further established when Ferran Adrià visited and proclaimed, "El Bajío without any doubt, is the best restaurant of Mexican cuisine that I have been in in my life."
The patriarch of traditional Mexican cooking, Carmen Ramirez Degollado joins the ranks of women like Patricia Quintana, Diana Kennedy, and Josefina Velazquez de Leon in preserving and promoting Mexican cuisine. But, one wonders, if she hadn't owned her own restaurant would she have been able to do it. When she took over El Bajío after the death of her husband, Carmen was also raising five children. She closed the restaurant every night at 6pm for years so that she had time to go home and be a mother. She never could have done this if she wasn't also the owner, and she never would have been expected to do this if she was a man. But circumstance and hard work turned this self-trained home cook into one of the greatest Mexican chefs in the world.
Amanda Cohen is the chef and owner of Dirt Candy, the vegetable restaurant in the East Village. Her award-winning graphic novel, Dirt Candy: A Cookbook, is the first graphic novel cookbook in America, and it's cheap, so you should buy ten copies.
PREVIOUSLY: Barbara Lynch, Patricia Quintana, Rosa Lewis, Madeleine Kamman, Leslie Resvin,  Chefs of the 1990s, Li Li, Sylvia Woods, Rosita Guerrero, Josefina Velazquez, Mary Vereen Huguenin, Female Sushi Chefs, Dione Lucas, Elena Arzak
Have a tip we should know? tips@mediaite.com