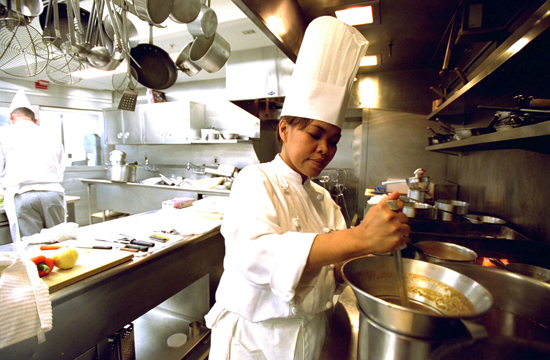 Welcome to Lady Chef Stampede, Amanda Cohen's series about the world's most influential Lady Chefs! Click here to read her Q & A with us about the column, or read on to learn more about this week's Lady Chef…
This week it's a Lady Chef Stampede Shutdown Special! The American government is closed! The White House is operating with a skeleton crew of 15! One of them, the White House chef, Cristeta Comerford!
Born in the Philippines, Comerford was the second-youngest of 11 children. Both her parents cooked at home, and Comerford soon became fascinated, later claiming that cooking for a family of 13 was like banquet cooking every day, and it laid the foundation for her future career. She won a science fair in high school, then studied Food Technology at the University of the Philippines, but she left before she earned her degree to immigrate to the United States. She lived in Chicago first, working in the kitchens of the Sheraton by the airport, and the Hyatt downtown. She worked at more upscale restaurants when she moved to Washington DC, and then spent six months in Vienna cooking at various restaurants.
In 1995, Walter Scheib recruited her to work in the Clinton White House. Everything was good until George W. Bush's second term. Signifying that she wanted more state dinners at the White House, Laura Bush fired Scheib, who admits that he was too identified as "Hilary Clinton's chef" to stay much longer, and Mrs. Bush began a search for a new White House chef, telling potential hires that they weren't looking for Texas BBQ, but instead for high end cuisine. There were hundreds of applicants for the high profile job and some even showed up for audition dinners. Comerford, who was executive sous chef at the time, gave an interview with the Asia Society and talked about the process:
"There were 450 applications from different parts of the US, then it was narrowed down to 10 and finally 3. But at the same time, the position of EC was void, so who does the work? The executive sous chef. So I was doing all the work, but at the same time I had to contend with a tasting menu that all the candidates had to do. It was really difficult because part of my job was to help the other chefs succeed in their menu tasting, and I didn't really have time to research for my own. I also had a state dinner for the Prime Minister of India to contend with. I didn't realize at the time that the state dinner was my menu tasting. All the time that I was doing the preparations, the First Lady was looking at how I interacted with people, how I did my job, and how I didn't falter under pressure."
One of the applicants who has talked about the experience is Richard Hamilton of the Spiced Pear in Rhode Island, who claims that his first dinner – a private dinner for 12 for the Bushes – was sabotaged by the kitchen crew who wanted the job for themselves. More chefs came in, more auditioned, but it was the previously-mentioned state dinner for 136 in honor of Indian Prime Minister Manmohan Singh that sealed the deal. In 2005, Laura Bush gave her the job, making her the first woman (and the first minority chef) to become executive chef in the White House.
Upon learning that she had the job, Comerford said:
"I'll make a confession here: I did Google myself at the time. And there were all these articles in different languages, and they all said the same thing, the White House chef is female. And it's such a great feeling. Not just for me, but for all the young culinaries out there."
Her husband, also an executive chef at a local DC restaurant at the time, realized that her job was going to eat her life and he decided to step back from his work responsibilities and spend more time taking care of their 8-year-old daughter during her first years as executive chef at the White House. Although it was an intense job, being White House chef wasn't hugely lucrative. Paying between $80,000 and $100,000 a year, it used to be supplemented by copious overtime, but overtime hours have been eliminated. It's not a lot of money when you consider that while the first responsibility of the White House chef is to prepare meals for the First Family, they also take charge of all state dinners and the food for almost all White House events.
When President Obama was elected, controversy erupted over his decision to keep Comerford as the White House chef. Alice Waters wrote an open letter to the White House asking to serve on an informal "kitchen cabinet" with Ruth Reichl and Danny Meyer that would advise "…on all things culinary, from recommendations for a new White House chef to overseeing the creation of a sustainable, organic kitchen garden on the White House lawn." Waters also traveled to DC to begin a series of slow food pre-inaugural dinners, and began talking about the need for the White House to be committed to organic and sustainable food, implying that Comerford was not. This pissed off Scheib to no end and he penned an online take-down of an article in the New York Times echoing Waters's call, demolishing it point-by-point.
"I have no knowledge of the President Elect's agricultural philosophy or that of any of his appointments, but I do have an intimate and unlike others quoted in your story, firsthand knowledge of the food served at the White House, and what the Chef's position there really is. Unfortunately in the area of the food and cooking at the White House your article depends heavily on second hand and worse yet blogosphere assumption, speculation and cliché for its content…"
It gets better from there. Since Comerford was, you know, actually working while Waters was running around asking for her to be replaced, Scheib found himself defending his protege. At a party,the Waters and Scheib went upstairs and closed the door to have a face-to-face showdown. The first thing Scheib told Waters was that while he supports her causes she needed to lay off his friend who could not speak for herself. He also told her that the White House sourced food from dozens of local farmers (the work of Hilary Clinton and Laura Bush) but that it couldn't be discussed publicly because – duh – if someone knew a farm supplied the White House kitchen the Secret Service insisted that they be removed from the approved supplier list for security reasons. Also, at Laura Bush's insistence, the White House kitchen serve organic food in every situation where it was available. So, while, Go Obama and all that, could she please shut up about something she didn't know a thing about?
But the celebrity chefs and their supporters who were excited about the Obama victory kept pushing. Art Smith, Oprah Winfrey's personal chef, was rumored to be in the running for the job, as was Rick Bayless, chef at Topolobampo, reportedly one of the Obama's favorite Chicago restaurants. But, ultimately, it all came to nothing. Rather than hire a famous guy, or allow Alice Waters, Ruth Reichl, and Danny Meyer to steer their staffing, Michelle Obama kept on Comerford, an immigrant who worked her was up through a bunch of high volume kitchens and who had earned her job not by being a celebrity but by working in the trenches for years. As either a thumbed nose, or a peace offering, Michelle Obama went ahead and planted a vegetable garden on the White House lawn, one of Alice Waters's proposals.
And two terms later, Comerford's still there.
Is it important that Comerford is a woman? I don't know. But when I read this quote from her in an interview in a Filipino magazine, I thought that maybe it is:
Q: Can you talk about your remarkable journey and how you got to where you are now?

A: Just to be a woman is number one, that is a big thing. I went to Vienna, Austria where I worked for six months. One of the apprentices there approached me and said that I was the first female sous chef she has ever met. She was impressed to meet a woman sous chef, which she wanted to be.
And that's how it happens. You work in a kitchen, and other women see you working there. They see you asking for a raise, getting promoted, they see you taking a better job, and doing it as well as anyone else. Or they see a woman go from working in a hotel by the airport to being Executive Chef at the White House. And when you see that happen for someone else, you know it can happen for you.
Amanda Cohen is the chef and owner of Dirt Candy, the vegetable restaurant in the East Village. Her award-winning graphic novel, Dirt Candy: A Cookbook, is the first graphic novel cookbook in America, and it's cheap, so you should buy ten copies.
PREVIOUSLY: Carmen Ramirez Degollado, Barbara Lynch, Patricia Quintana, Rosa Lewis, Madeleine Kamman, Leslie Resvin,  Chefs of the 1990s, Li Li, Sylvia Woods, Rosita Guerrero, Josefina Velazquez, Mary Vereen Huguenin, Female Sushi Chefs, Dione Lucas, Elena Arzak
Have a tip we should know? [email protected]
---