The 7 Best Subtle French Burns From Pete Wells' Review Of Andrew Carmellini's Lafayette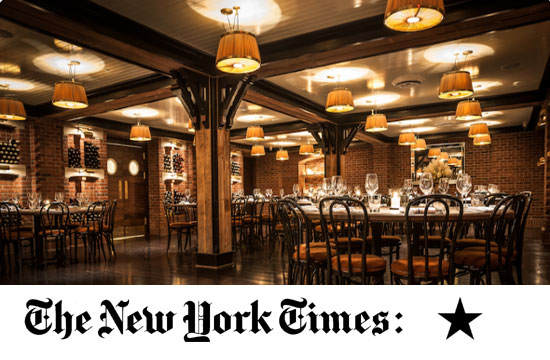 Pete Wells, New York Times food critic and Guy Fieri take-down artist extraordinaire, has a knack for crafting his reviews to reflect the style of the restaurant in question. In the case of Andrew Carmellini's white-hot new ode to the French bistro, Lafayette, that means coming up with some very subtle, très français burns. While an early simile describing Laf as being "like a junior Eataly for Francophiles" seems promising, opening with a comparison of the restaurant to successful North Korean nuclear tests — well — isn't. Here are the 7 best burns from Pete's one-star New York Times review:
1. The Friend Zone
"As for the food, there are salads and charcuterie and oysters and shoestring fries. Almost all of it is worthy, but very little seduces you. Lafayette wants you to fall in love with it, but it tries too hard in some ways and not hard enough in others. It's a restaurant that is a little too easy to place in the friend zone.

The nonromance starts at the door. One night when a private party had taken over the basement, Lafayette let large, unfunny security men with earpieces stop diners on the sidewalk for questioning. One prospective guest with a reservation said he was on his way inside to meet somebody. 'For what?' came the reply."
2. Ladies Love Baked Goods
"A basket of country bread was placed directly in front of the only woman at the table, as if she were supposed to eat the whole thing herself."
3. The Pain Quotidien comparison
"The service at a restaurant as busy as Lafayette needs a brisk professionalism leavened with charm, or else you start to feel as if you are eating in the largest and most elegant Pain Quotidien in the five boroughs."
4. The Fairway comparison
"A bouillabaisse that could have been the best in town was undercut by its serving dish, photogenic but impractical. The lobster tail, langoustine, mussels and monkfish were all handsomely cooked, and the shellfish broth was wonderfully aromatic with saffron and pastis. But spreading it all out in a shallow copper braising pan meant that both seafood and sauce were tepid within minutes.

It's now off the menu. I hope it's simply gone to Williams-Sonoma to buy itself a deep porcelain bowl, because a spectacular bouillabaisse could help Lafayette get out of the friend zone. The by-the-book pork pâté won't do it. Neither will the rotisserie chicken. Tender and flavorful as it is, it still puts you in mind of Fairway, not Chez l'Ami Louis."
6. The AWOL sandwich
"Another chef-engineered burger won't do it, even if this one, served at lunch, gets its terrific flavor from ground brisket, and neither will a soft-shell crab on a toasted brioche. The crab is faultless, but the sandwich belongs in another restaurant. The name of that restaurant is the Dutch."
7. The final blow
"Of all the adjectives that might describe a French restaurant built by Andrew Carmellini, Lafayette brings to mind the last one I would have expected: optional."
You can check out the review in its entirety here.
Have a tip we should know? [email protected]