Landlord Shuts Down Ray's Hell Burger; Now Where Will Obama Go On Dates With Biden?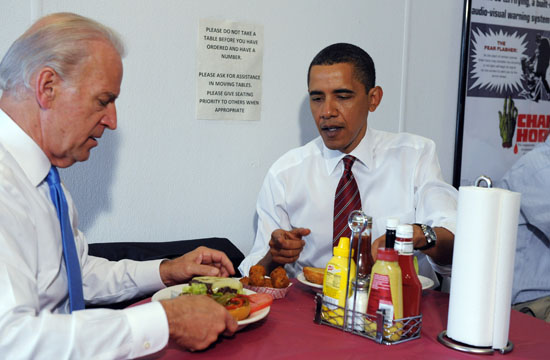 And what is to become of our marrow burger now?! Ray's Hell Burger, one of the President's favorite burger spots in DC (or Arlington, VA; close enough), has been unceremoniously booted out of its small location in an unimposing strip mall. Apparently it's been undergoing a really bad breakup with its landlord, who's taken on the role of Beyonce and has thrown all of Ray's stuff on the sidewalk.
A popular lunch date spot for President Barack Obama and his fly honeys Joe Biden and Dmitri Medvedev, Ray's Hell Burger (and its adjacent property Ray's Hell Burger Too) had claimed that they were resolving the issue with their landlord, but ARLNow.com reported that the breakup seemed to be permanent:
Equipment and furnishings from the former Ray's Hell Burger and Ray's Hell Burger Too restaurants in Rosslyn have been removed and placed in the parking lot of the Colonial Village Shopping Center.

The move is part of an on-going dispute between restaurateur Michael Landrum and the shopping center's owner. Both restaurants closed in January after the landlord locked Landrum and his staff out, alleging unpaid bills.
Landrum told the local paper that all of the kitchen equipment would go in a box to the left to a local charity focused on feeding the hungry, so at least something good is coming out of the death of Ray's Hell Burger. Why do we care so much? You must not know 'bout those burgers. (A third location, Ray's to the Third, remains open across the street, so at least we can have another burger in a minute.)
[ARLNews.com via The Huffington Post]
RELATED:
very Day Is Pie Day For The President: 7 Pictures Of Barack Obama With His Favorite Dessert
Charlie Palmer Jumps On The President Bandwagon With Menu Based On Presidents' Favorite Foods
Apparently Alan Wong Is One Of President Obama's Favorite Chefs
Have a tip we should know? tips@mediaite.com