Last Call: Calm Down, There's No Chicken Wing Shortage, Just Like There Was No Baconpocalypse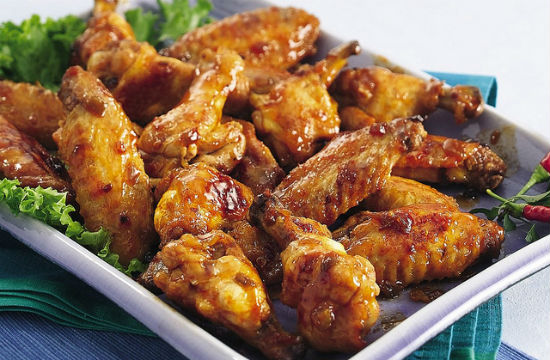 Time: All those reports about the chicken wing shortage for Superbowl Weekend are totally misleading you. The "shortage" is virtually non-existent, and the "price spike" is like, $0.14 a pound. Breathe. You survived last summer's baconpocalypse, didn't you?
Huffington Post: According to this interview with Anne Burrell, the most surprising thing about Anne Burrell is that there is nothing surprising about Anne Burrell. But she also dropped this little wisdom, which we're going to carry with us for at least a day: "Part of being successful is about asking questions and listening to the answers."
Jezebel: Eva Longoria's lady-geared steak restaurant STK now has a commercial that is every bit as awful (and offensive to women?) as you could possibly imagine. If someone could demystify the earring-chain-necklace and the seemingly unrelated lesbian undertones for us, we'd appreciate it.
Obama Foodorama: The USDA is proposing a ban on all junky snack foods in school cafeterias, in addition to last year's school lunch overhaul. How high schoolers will get through seventh period Calc without a Snickers is their problem. We couldn't have done it.
Eater: Applebee's put out another statement about the employee that was fired for posting an insane receipt tip on Reddit. This statement acknowledges the fault of the diner, a pastor, who refused to tip 18% on the grounds that he only gives God 10%. Applebee's will soon release another statement acknowledging the fault of the recession, The Bible, God, and its own terrible food.
Village Voice: The Village Voice issued its list of 10 best vegetarian restaurants in New York, and it's totally non-vegetarian friendly, we promise. Okay, fine, we're biased because our main squeeze Amanda Cohen's Dirt Candy is on it.
Have a tip we should know? tips@mediaite.com