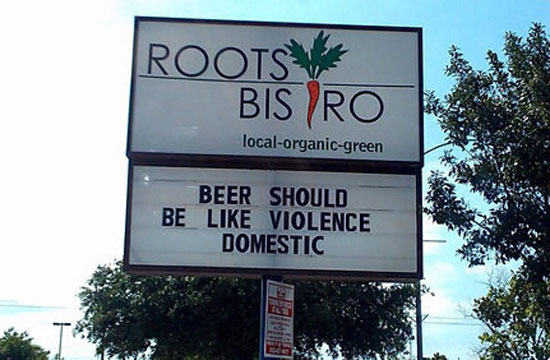 Eater: Yes, that's a real sign at a real restaurant in Houston, which was taken down after ten minutes when someone helpfully suggested that people may find domestic violence…distasteful, perhaps? Offensive? Insensitive? Dickish? Meh, we can't tell what's so horrifically repugnant about it.
Shine: Speaking of offensive things, remember how people generally find it a bad idea to leverage national tragedies to promote their own sites? Epicurious forgot about that and decided to honor the victims of the Boston Marathon bombings with recipes for "whole-grain cranberry scones." As a native Bostonian, let me just say: screw you guys. No Masshole ever ate whole-grain cranberry scones.
The Huffington Post: But let us restore your faith in humanity by telling you about Reddit's "Random Acts of Pizza" subreddit, whose members donated thousands of free pizzas to hospitals, firehouses, police stations, and stranded marathoners across Boston. "It was amazing," said Liz Kosearas, who started the entire thing with a post on the popular website. "Within 45 minutes, hundreds of people — people from all across the U.S., Canada, Puerto Rico, Barbados — had started commenting and offering to send pizza."
MSN.com: And now, Andrew Zimmern presents a slideshow of photos from Incanto — and they're not from his iPhone! Apparently, people can take photos with these expensive, bulky machines called "cameras," and they make the photos of offal look like this.
OCWeekly.com: Can you mix things in a bowl? Not just food — anything? Paint, ammonia, techno beats? Good. You could win the chance to be Korean rapper PSY's personal chef — as well as $40,000 and a spot in his entourage for a month, where you will be forced to put on a neon tuxedo and dance, dance, dance. (It's probably worth quitting your stage at Alinea for.)
Grub Street:  After a New York City steakhouse hired "notoriously flighty" chef Conrad Gallagher, it was little wonder that its entire staff walked out six weeks prior to opening. The restaurant now has a completely new staff, and we have to wonder if they even know what happened to their predecessors.
Have a tip we should know? [email protected]