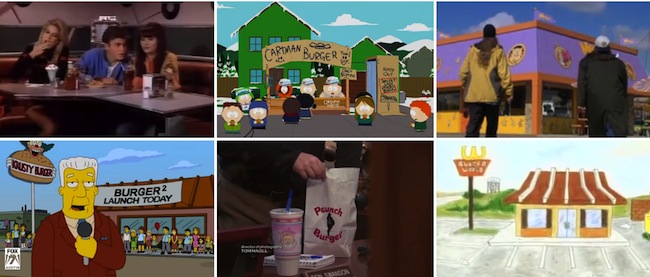 Eater: Welcome to Good Burger, home of the burger that doesn't exist in real life. Here's a multi-media enhanced list of fictional burger joints — including everything from The Simpsons' Krusty Burger to Saved By The Bell's The Max (nope, not a real place that you can go on a date with your dreamboat crush circa 1996). In case any of those make-believe spots are hiring, here are our favorite fictional chefs.
Gulf News: Where can you get bargain-bin but Michelin-starred eats? Hong Kong, apparently. A restaurant called Ho Hung Kee which was first awarded a coveted star in 2011 serves up bowls of wonton or fried flat noodles with beef for less than five dollars. Of course, the cost of the flight cancels out any major savings. So, forget it.
Grubstreet: Earlier today we freaked our freaks over a haphazard tweet by one Gael Greene insinuating (stating) that Balthazar AND Pastis would be closing. Gabe Ulla and Grubstreet told us to all calm the hell down, because Keith McNally swears no such nonsense will occur. We'll keep tracking this story, and/or we just totally got punked by one ex-Elvis lover.
ABC News: Rick Bayless is getting peoples' panties in a bunch after insinuating that another California city has a sub-par Mexican food scene. Of the Golden Gate City, Bayless says: "San Francisco doesn't really have much of a Mexican food tradition aside from the taquerias in the Mission, which is a fairly limited thing." We would like him to take another gander at the Bay Area's famed (feed-you-for-days) burritos and tell us what looks "limited". Clearly, people are pissed.
The Daily Meal: We haven't run this idea by Mayor Michael Bloomberg just yet, but we've just caught wind of a great diet change that could help us live a very, very long life: eating bacon every day. That's what 105-year-old Pearl Cantrell says and, well, she's 105. We should just do what she does.
Fox News M: We don't regularly run recipe content around these parts, but when someone mentions the words "tons of" and "Nutella" in the same headline, they've got our attention. Here are all the best Nutella recipes from around the web, in case you tossed over a truck-load of the stuff last week, or attend Columbia University.
Have a tip we should know? tips@mediaite.com