Last Call: Colonel Sanders' New Autobiography Claims He's The Original Celebrity Chef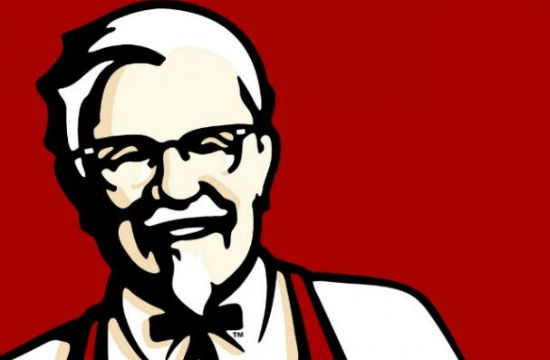 Huffington Post: Colonel Sanders' long-lost autobiography will be released on Facebook June 4th. The tome is entitled Colonel Harland Sanders: The Autobiography of the Original Celebrity Chef, which makes us feel like assholes for leaving him off our Brief History of Celebrity Chefs. In our defense, the fact that this book is being released exclusively on Facebook makes us feel less bad about assuming Colonel Sanders was a cartoon character meant to be the mascot of a fried chicken chain. Wait, Ronald McDonald is still fictional, right?
NY Daily News: Brooklyn engineering students create a superhero robo-fish to protect weaker, possibly silently screaming fish from danger in support of PETA's Silent Scream Campaign.
Daily Meal: Top Chef: Masters competitor and Master Chef judge Graham Elliot is slated to open his newest restaurant in Chicago next week. g. e. b. was expected by critics to adopt a rock 'n' roll theme, considering Graham is basically the chef-in-residence at Lollapalooza, but the casual eatery wound up fusing rock with — what else? — church. Look for menus that are also vinyl record sleeves, and pew seating. Tasty.
GrubStreet: We've been biting our nails all day over a possible closing for Bobby Flay's Mesa Grill in New York after reports went out saying the space the restaurant occupies is back on the market. But, just before the end of the day, Bobby popped up to reassure us all that they're just renegotiating the lease. If they do wind up losing the space, a move to Midtown might be in the cards, but nothing concrete just yet. Stay tuned.
The Hollywood Reporter: Gordon Ramsay will not scream at you, no matter how much you want him too, even if you pay him. Some very persistent, presumable fan of BDSM once begged Gordon Ramsay to scream at him for his birthday in Las Vegas. He offered the chef $25,000 to call him "a f*cking donkey." We feel like that money could be way better spent in Vegas on people who would be more than willing and able to fulfill that request, no? Just us? Okay, then.
Eater: Three chefs de cuisine from Ferran Adria's former World's Best Restaurant elBulli have opened up a new spot all their own in Cadaqués called Compartir. We longingly add to our Spain dining bucket list with a sigh.
Have a tip we should know? tips@mediaite.com