Last Call: Look At Brian Malarkey's Outfit, Then Read About How He's Closing His Restaurant Called 'Gingham'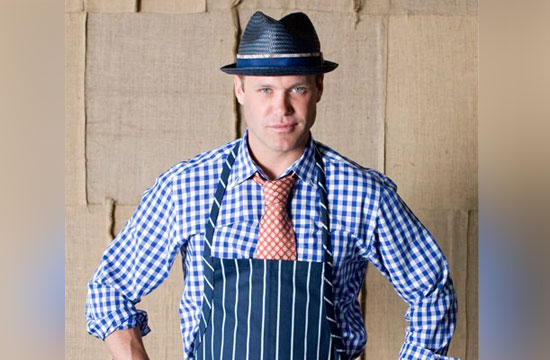 Eater San Diego: Oh, the irony! The irony! But now what will he do with his Dorothy outfit? Moreover, does he wear ruby slippers with rolled-up pants?
The New York Times: Yes, it costs $40 for smugglers to run KFC into the Gaza Strip via secret tunnels connecting Palestinians to Egypt — and yes, by the time it reaches the table, the chicken's cold and the fries are soggy. But according to Gaza residents who have no other recourse when it comes to sourcing fried chix, it's so, so worth it.
Instagram: Loyal British subject April Bloomfield met Prince Harry during his visit to the States. A query: can we ever get Harry to film an episode of The Naked Chef with Bloomfield's mentor, Jamie Oliver? And can Harry be the Naked Chef? Just, y'know, because that's what the show's called, and no one likes false advertising.
Eater: Here's the trailer for Mixology, a show full of attractive twenty-somethings looking for love, who all happen to be at a mixology bar one night. Mixology, of course, serves as a metaphor for the chemistry between all these attractive twenty-somethings, since they are mixing it up. Also, cocktails constantly have to worry about STDs.
Grub Street: A 57-year-old Japanese chef was killed in Germany after two unknown assailants didn't pay for their noodle dish, then beat the man to death during a dispute over the bill. No jokes here — that's just sociopathic.
Bloomberg News: The CEO of Monsanto attacked critics of genetically modified foods for their "elitism", claiming that his opponents fail to recognize the greater social good that GMOs could provide to third-world countries, as well as a potential solution to a looming food crisis. We'd like to point out that the CEO's name is Hugh Grant. That's just ironic, considering the other Hugh Grant's reputation.
Have a tip we should know? tips@mediaite.com