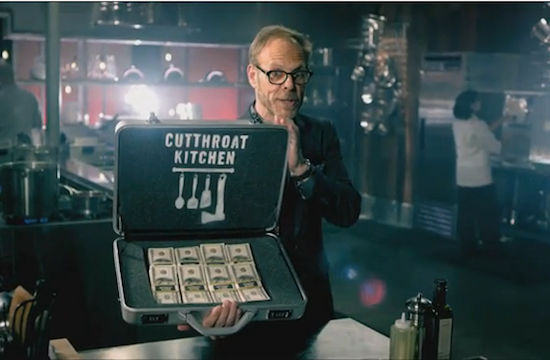 Eater: Is it us, or is Food Network just like Taco Bell these days? There's a huge menu (show lineup) but every single thing is made up of the same four ingredients that are slathered atop each other in only slightly different combinations. Here's a preview of Alton Brown's new show for the network, Cutthroat Kitchen, in which cheftestants can use prize money to either help themselves, or sabotage their competitors.
Grubstreet: Hold onto your tip jars, waiters. Danny Meyer tweeted that he'd considered doing away with tipping but his staff asked him not to. Tom Colicchio responded "I'm thinking the same for Craft," and David Chang chimed in with: "we are more than kicking around the idea @momofuku of figuring out how to increase prices removing tips w/o revolt." Guess we don't have to worry about crying over emotionally charged viral videos of tip-bestowing any more.
Huffington Post: After joining the FLOTUS's "Let's Move" campaign, Beyoncé Knowles struck a $50 million sponsorship deal with Pepsi, which Mark Bittman slammed as "renting her image to a product that may one day be ranked with cigarettes as a killer we were too slow to rein in." Beyoncé's response is about as deep as those tiny cute Pepsi cans grocery stores sell in the chip aisle, and equally canned.
Deadspin: This interview with DadBoner strangely doesn't mention nary a one imaginary Guy Fieri menu item. But here's a quote that might convince you it's still worth a read: "on the Fourth of July, I had maybe 6 drinks and ate a bunch of mushrooms and smoked some weed. Responsibly. This is instead of having 30 to 50 drinks from 10 a.m.-3 a.m., alongside mushrooms, weed, Adderall, Molly, waking up on someone's floor in Venice wrapped in egg-crate foam, finding any full beers that drunks opened and forgot to drink, pounding those, then going on a bender for three more days."
The New York Times: In an almost effusive review of Alder (save for a "pill-bottle small" menu print complaint), Pete Wells accuses Wylie Dufresne of being several different types of mad scientist (botanist, biologist, zoologist) before settling on Neurologist. "He and his colleagues at Alder…get into your brain and rewire its pathways until you find yourself looking at one thing and tasting something else."
Twitter: Bryan Voltaggio and his wife welcomed a baby girl to the world today! He tweeted of a photo of himself in full daddy-to-be hospital regalia with the caption "Going in…" But lucky for all of his followers, the chef chose not to share photos of anyone coming out.
Have a tip we should know? tips@mediaite.com