Last Call: Watch Conan Smash A Burrito With A Baseball Bat In Olympic-Grade Slow Motion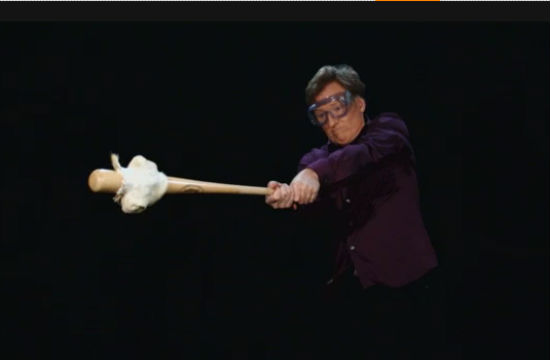 Team Coco: Conan O'Brien found himself so taken with the majestic quality of the footage shown by slow motion cameras at the Olympics that he rented out one of the high-tech cams himself to capture some moving slow-mo footage of his own. Notably: smashing a burrito with a baseball bat. It's cool, though, he's wearing safety goggles. (Oh to be showered in a fine mist of guacamole…)
New York Times: Julia Child loved Chinese food. No, like, seriously loved it. Classic Cantonese, only, though, because homegirl couldn't handle spicy foods. No sriracha for Julia (we know, we know, that's technically Thai). She once giddily sopped up fish soup with garlic bread at Alice Waters' house with David Tanis on her birthday. As always: we want Julia Child's life.
Gawker: A bear family broke into a Norwegian cabin and drank all the beers. Over 100 of them, to be exact. Frattiest bears ever. The Drunkenstein Bears. Lagers and Tigers and Bears. (We're stopping.) Also, who keeps over 100 beers stashed away in their cabin, and why aren't these boozy Norwegians inviting us to go camping? WE WON'T MAUL YOU.
The Daily Meal: Houston has opened its very first not-for-profit bar. You know what that means? Charity bears beers!
People: Wanna know what Natalie Portman and Benjemin Millepied served at their wedding? No you don't, because it ended with packets of locally sourced wildflower seeds wrapped up in bags reading "Merci". Blah blah vegan wedding blah.
Eater: Italy is selling Hitler wine. What the hell else is new.
Have a tip we should know? tips@mediaite.com