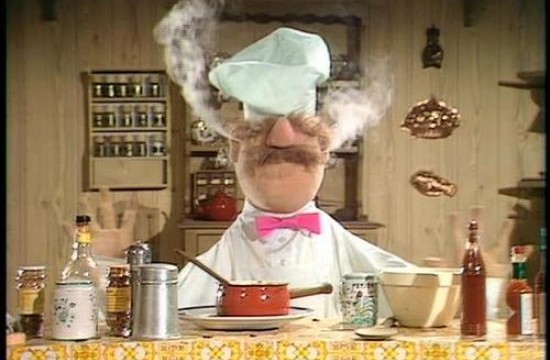 Slate: Swedes, who are usually quite lovely people, apparently get really testy when you ask them to translate the Swedish Chef into English. For one, he's not really speaking Swedish, or any language, really (it actually sounds more like fake Norwegian). Also, Google can do that for you already. Su feegoore-a it oooot yuoorselff, yuoo guddemn jeenguist esshules. Bork Bork Bork!
New York Times: Out of all the print magazines that have died in the past few years thanks to the death-spiral of old media, Media Decoder discovered that people miss Gourmet the most. We miss it too, particularly since it now means that all of Ruth Reichl's wonderfully meandering and florid thoughts are now compressed into 140 characters, which is way too much floridity in one go. (Happily — we think — it gave rise to Ruth Bourdain, who is obviously the epitome of new media.)
Grub Street NY: The weather is turning cooler and the NoMad is closing its rooftop bar and diner. Taking its place is the humbler, hardier brunch, sensibly there to generate more revenue for the fall. We miss summer already, with its blazing heat and warm embrace, but it is capricious and fleeting and thus bade us farewell, leaving us with…brunch. Sigh.
Eater: Rascal Flatts is opening a chain of huge theme restaurants (like, the first one in Phoenix is 14,000 square feet) with enough space for live music, a sound stage, indoor and outdoor seating, and a retail area. Yes, there will be Christian Rock Nights. Yes, there will be locations north of the Mason Dixon Line. We can't look away.
Marketing Week: In his never-ending crusade to get people cooking with fresh ingredients, Jamie Oliver is launching a line of appliances that will somehow encourage non-cooks to cook. We don't understand. Does the blender magically make everything you put in it taste like truffles?
New York Times: Eataly smashed its predicted revenue for its first year of business as it celebrates its second anniversary; no one is surprised. Apparently they're doing better than The Cheesecake Factory.
Have a tip we should know? [email protected]