Last Call: Chick-fil-A Ad Claims 'Only Fruitcakes' Wouldn't Like Their Party Platters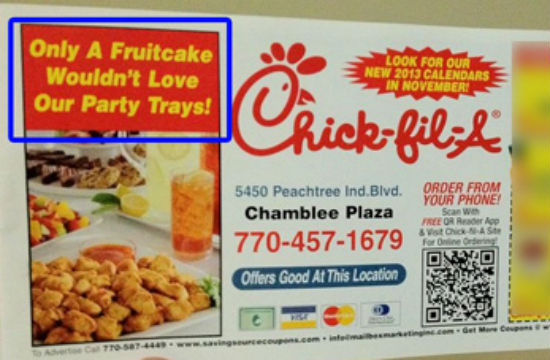 Towleroad: Chick-fil-A rolled out a new ad campaign for its party platters, boasting, "Only a fruitcake wouldn't love our party trays!" …We want to think they're being hyper-self-aware and hilarious, but really…?
Reuters: Katie Lee, Marc Murphy, and Art Smith dish on how they keep from putting on excess weight while working in the food industry. Lessons: don't try to comp Marc Murphy food. You wouldn't like Marc Murphy when he's comped food.
Fresh Off the Boat: The last photo in Eddie Huang's special behind the scenes blog post for his wabbit-hunting web-series politely asks Chef Anne Burrell to match her socks. We won't repeat the other requests here.
Today Show: It's October 16th, and do you know what that means? HALLOWEEN CRAFT TIME. Okay, fine, we're terrible crafters, but we do think we can handle this supremely rad "Eyeball Highball Martini" that Martha Stewart made on The Today Show this morning. Somebody get us a bucket of radishes and a vegetable peeler, stat. Googly eyes for everyone!
Huffington Post: Have you ever wondered what Mick Jagger's daughter would look like naked, straddling a tuna? Well, thanks to a British campaign to stop overfishing, you can see what that looks like here. Andrew Zimmern never mentioned this as a way to avoid the baconpocalypse…
Obama Foodorama: President Obama prepared his body and mind for tonight's debate with a chicken and pasta lunch, and a steak and potato dinner. He also spoke the words, "I feel fabulous," and pretended he was in a Beyonce video with his aides for this photo. Yup. He's ready.
Have a tip we should know? tips@mediaite.com