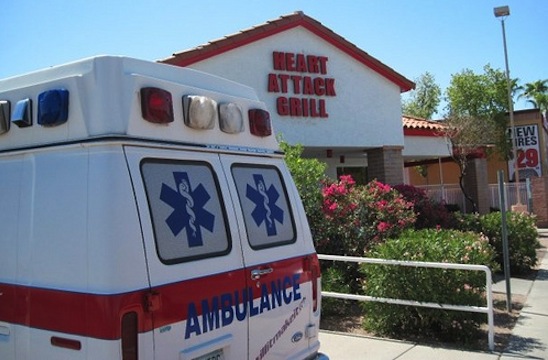 Businessweek: The owner of the Internet-famous and mocked Heart Attack Grill, John Basso, comes out and says what we're all thinking: this shit is terrible for you. "I am probably the only restaurateur in the entire world who is unapologetically telling you that my food is bad for you, that it will kill you and that you should stay away from it," says Basso in what's sure to be known now as the weirdest business strategy ever. "Don't eat here! Seriously! (Just kidding, stuff this lard in your face.)"
LA Times: You can still sign up for the science-heavy online cooking class at Harvard University, starting on October 8. The chefs signed up to teach a class during Science and Cooking: From Haute Cuisine to Soft Matter Science? Ferran Adria, Wylie Dufresne, Jose Andres, David Chang, Nathan Myhrvold, and more. And it's free!
Eater: That restaurant expansion that Ilan Hall was talking about? It's happening in the new Williamsburg Urban Outfitters. Lord, have mercy on our souls.
Harper's Bazaar: Grant Achatz made an edible balloon once. But if that sounds too difficult for you, you can attempt to make his "Hot Potato" recipe, that's basically a potato soup with a potato sphere hovering on the edge. Because that's doable at home.
Detroit Free Press: Douglas Keane, the winner of Top Chef Masters, says he wants to give back to his hometown, Detroit. "Basically, I would love to be a part of a redevelopment of a food industry in downtown," he says — but no firm plans have been made just yet.
Have a tip we should know? tips@mediaite.com