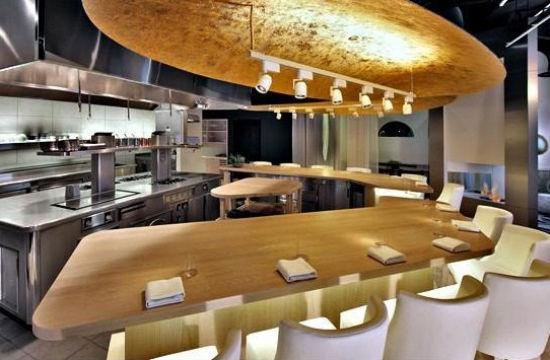 Curbed: Curbed has a design porn spank bank of images from Jose Andres' minibar in Washington DC, which includes an infinity mirror and things that look like they're made of other things. What else would the father of molecular gastronomy use for decor?
GrubStreet: Bill Pullman is among the subjects in a new feature-length documentary about people obsessed with rare fruits entitled The Fruit Hunters. Check out the trailer here to listen to them profess things like "a mango is always a negotiation; it's a love story," and "my bones are made of bananas and my flesh is mango." Oh, yeah, did we mention that these people are crazy?
Toronto Sun: Ryan Gosling reportedly hasn't shown his face around his Beverly Hills restaurant Tagine in months. This, of course, translates to a tanking Yelp rating due to a lack of Ryan sightings. Because, as we all know, The Gos amps up any flavor, rounds out any wine profile, warms up any atmosphere, and charms any dining experience. We don't know how any restaurant not co-owned by Ryan Gosling survives.
BuzzFeed Food: BuzzFeed Food got their hands on Sam Sifton, gave him the direction of "be Ron Swanson," and fired up a video camera to tape his best Thanksgiving tips. Also, because they're BuzzFeed, there's a Sam Sifton advice meme and a make-your-own-meme section. Multimedia!
Huffington Post: Due to poor weather conditions, the champagne harvest this year is down by 40%. For perspective, that's the worst harvest in the last 40 years. This is way worse than the aporkalypse. At least during the aporkalypse we could still get drunk.
Eater: Apparently, the most intimidating task Gordon Ramsay could come up with to challenge a recently overhauled restaurant on Kitchen Nightmares is to stuff its dining room full of obscure food bloggers no one has ever heard of. Um, where was our invite?
Have a tip we should know? tips@mediaite.com