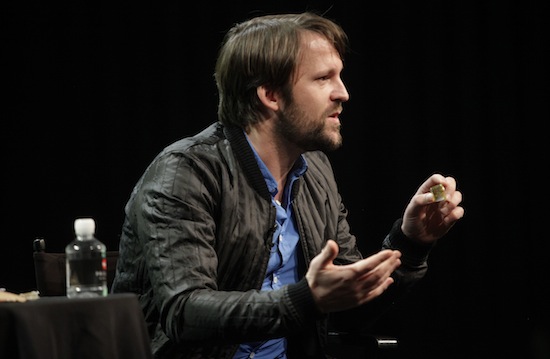 Potluck Video: Rene Redzepi really does get personal about his newest book. Redzepi talks about his journal/ photography book/ cookbook with Ali Rosen, but really opens up about his journal, which he wrote while he "had somewhat of a bad year in 2010," to get out of his funk. "I thought it'd be a good idea to go home after work, and keep track of what went good and bad." It wasn't a book that was really meant to be published, so boy, does Redzep really does go there. "I wasn't afraid of it," he says.
Grubstreet: Guess all of our dreams of an uber-rich, truffley dinner with the new New York City mayor are shot. Bill de Blasio gave away that $8,000 truffle an anonymous buyer gifted him to a high school in the Meatpacking District; and now we have questions. Is that anonymous giver going to be pissed? You can't exactly regift a truffle, right? Also, what will the high school do with it after the Truffle 101 lectures? (To which we say, a truffle lecture? Seriously??) Eat it? We mean, this is the Meatpacking District, after all; home to the insanely rich who probably put truffles on their morning oatmeal.
The Associated Press: Just because we Americans are queasy about horse meat doesn't mean our friends across the pond are. British Princess Anne thinks we should put the issue of eating horse meat on the table for debate; as it may create better welfare for horses. Hm…
Times-Picayune: Kudos to Emeril Lagasse, whose charity dinner last weekend, "Boudin, Bourbon and Beer," raised $2.25 million for Gulf Coast children's charities.
Go Fork Yourself: Our two favorite people in one podcast, Andrew Zimmern and Edward Lee, talk about Southern cuisine and their bromance, Top Chef, and Zimmern's distaste for Sriracha. Lee, whenever you want to cook us some Southern cuisine, we're here for ya. (And Zimmern is super sad that Molly Mogren didn't invite him to girl's lunch to talk wedding venues, sad.)
NPR: A new website, called MenuStat, makes it easy to compare fat stats of different restaurants. It's like a car wreck — we don't really want to know, but we can't peel our eyes away.
Have a tip we should know? [email protected]